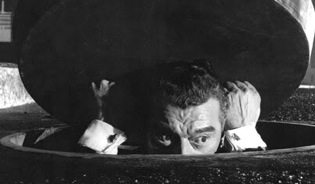 Quick, name four Basil Dearden movies. Anyone?
Congrats if you came up with one — even if it was "Khartoum."
British director Dearden made a swarm of films from 1940 to 1970, almost all forgotten outside his native land.
The overdue DVD set Basil Dearden's London Underground
shines the Criterion Collection spotlight on a quartet of the British director's fine films, three of them making DVD debuts in North America.
Basil Dearden and producing partner Michael Ralph were known for social message films at the time these movies were made (1959-'62), but the humanistic preaching came organically, never at the expense of storytelling. Here's hoping the Eclipse series box set leads to some kind of Dearden revival.
Taken out of context due to the passage of time — as in, being openly gay is no longer a crime in Britain — these "Underground" films retain their punch and entertainment values, if not all of their sophistication.
The set's best film, "Victim," starring Dirk Bogarde, tells of a rich and happily married lawyer whose former boy-toy turns up dead. The lawyer must choose between remaining comfortably closeted or tracking down blackmailers who are terrorizing gay men of means.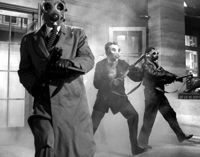 "A League of Gentlemen" (pictured) and "Sapphire" are both crime-story procedurals — "Gentlemen" tracks a band of dapper bankrobbers; "Sapphire" rides along with work-a-day police trying to solve a racially charged murder.
"Gentlemen" originally was to star Cary Grant, but the always-splendid Jack Hawkins ended up top-lining. Another familiar actor, Nigel Patrick, helps carry both films.
"All Night Long" celebrates modern jazz, with Charles Mingus and Dave Brubeck jamming and doing a spot of acting. It's a fast-paced retelling of "Othello," about an interracial marriage of jazz stars tested by the machinations of a drum-beating Iago (Patrick McGoohan).
As with all of the Eclipse sets, there are no extras except for a single-page essay. The films total 400 minutes. Images are pleasant but unremarkable, favoring a light side of the grayscale (except for the color "Sapphire.") The mono audio sounds OK, with English subtitles an option for Yanks.
Check out Glenn Abel on Google+