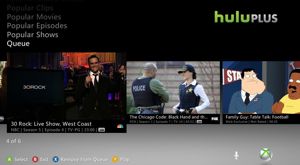 Microsoft's Hulu Plus has gone live on the Xbox 360 platform, opening with a seven-day free trial.
Anyone with a networked Xbox 360 can log in during the sampling period, which ends May 6.
Bottom line: The Hulu Plus picture looks great, the audio has plenty of punch and there's a heap of films from the Criterion Collection.
Hulu is known for TV shows, of course, boosted by its corporate ties to NBC Universal and Fox. The usual TV fare was right up front, including the latest Leno, Jimmy Fallon and "The Daily Show." Of course a lot of this stuff is on Hulu basic … and, um, network television.
Finding the Criterion Collection was another matter. Odd, since one of the reasons Criterion moved to Hulu Plus — to the consternation of Netflix Nation — was for better branding. The Criterion films also can be found individually alongside the other movies (mostly cast-offs) but they're not identified as Criterion until a viewer clicks on the title.
I tried to find the Criterion motherlode using the basic search, but came up with nothing. Finally located the big C as a subcategory of "TV and Movies," five slots to the right.
Netflix customers who use the Xbox console will be familiar with the Hulu Plus scroll-roll-search-and-play interface, which has its ups and downs. The 15 Hulu Plus main categories are better thought out than those on Netflix, however. Scroll through most-recent (TV shows, episodes, clips, etc.), most-popular, featured, recommended, Hulu queue, etc. Quite a few program images (like DVD covers) didn't load on day 1.
After cracking the Criterion case, I watched "My Colt Is My Passport,"
a 1967 yakuza film starring Joe Shishido and directed by Takashi Nomura. The black-and-white images looked terrific across a dramatic widescreen frame. There was a brief sponsor message at the very beginning, and then no commercial interruptions — which may not be the case in the future.
Hulu Plus goes for $8 a month, but still contains advertising. The Xbox Live preview is sponsored by Jack Link's Beef Jerky, bless their peppery little souls.
To try out Hulu Plus on Netflix, you'll log into Xbox Live (regular or Gold), sign in to your Hulu account and then download the Hulu Plus front end (the usual drill). The Kinect navigation recently hooked up to Netflix also works here, in a limited useless kind of way. Use the controller.
After the preview ends May 6, you'll need to be an Xbox Live Gold subscriber to become a Hulu Plus subscriber, a premium on top of a premium.
Hulu Plus already is available on the PlayStation 3 system and comes preloaded on consumer electronics hardware, such as Sony TVs and Blu-ray players.
Meanwhile, 2.7 million Xbox 360s were sold in Microsoft's fiscal third quarter. The Kinect add-on moved 2.4 million units. The games hardware numbers proved one of the few bright spots in Microsoft's earnings report of April 28.