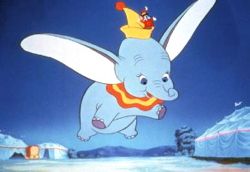 Another Walt Disney classic will be reborn in high definition, as a 70th anniversary edition of "Dumbo" comes out Sept. 20.
It's another of those Blu-ray + DVD Combo Packs, which allows the kids to work over the old-school disc while the high-def pops up for lights-down family viewings. A Blu-ray-only disc also will be released, as well as standard- and high-def downloads.
Walt Disney Studios Home Entertainment promises 1941's "Dumbo" has been restored to the color settings most likely approved by Walt Disney himself, using prints held by the Library of Congress (nitrate camera negative) and the film Academy (dye-transfer Technicolor).
For the audio, Disney turned to a 1941 release print held by UCLA Film and Television Archives collection. The UCLA print appears to be the earliest surviving generation of the original audio, so "Baby Mine" should sound pretty sweet. The film also offers "Pink Elephants on Parade," a song so offbeat that Sun Ra covered it for years.
"Dumbo" was Disney's fourth animated movie and is suitable for the youngest viewers (no scary whales).
Amazon has been selling a Spanish-language packaging of the "Dumbo" Blu-ray for a year. The extras appear near-identical to those on the upcoming English-market release. The last major restoration job came with the 60th anniversary edition of 2001. The last official Disney release was the single-disc DVD "Dumbo: Big Top Edition" of 2006, with no major improvements.
The new Blu-ray version of the movie comes in full screen (1:33:1), with "7.1 Digital Theater System Hi-Def Surround Sound."
Here are the bonus features, according to the Disney press release:
Bonus features:
DVD:
Deleted scene — "The Mouse's Tale"
Deleted song — "Are You a Man or a Mouse?"
"Taking Flight: The Making of Dumbo" — A journey back to the origins of the film as the baby elephant takes wing.
"The Magic Of Dumbo: A Ride of Passage" — Disneyland's most popular ride through the eyes of a child.
Audio Commentary with Pete Docter, Paula Sigman and Andreas Deja
Sound design excerpt from "The Reluctant Dragon."
Original Walt Disney Television introduction
Blu-ray (also contains DVD extras):
Cine-Explore
Disney View
"What Do You See?" game
"What Do You Know?" game
"Celebrating Dumbo" featurette
Animated short: "The Flying Mouse"
Animated short: "Elmer Elephant"