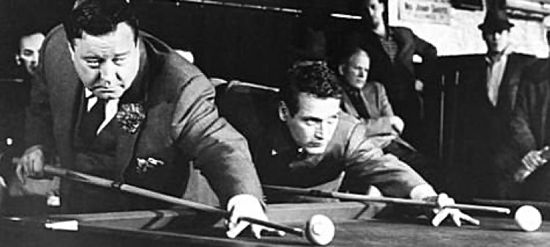 Fox just racked up "The Hustler" for a Blu-ray release keyed to Fathers Day.
New supplements to the title include the documentaries "Paul Newman at Fox," "Jackie Gleason: The Big Man" and "The Real Hustler: Walter Tevis." The other extra features appear to date back to the 2002 and 2007 DVD releases.
Robert Rossen directed with style, daring and street smarts, in striking black and white. Assuming Fox does the kind of work it's done on b&w classics such as "All About Eve," the visuals should be money. The 2007 DVD images looked quite good, but there was some paleness and occasional murk to quibble about.
Street date is May 17, with Amazon listing "The Hustler" Blu-ray (book) at $23.99.
Other testosterone-laden treats out on Fox Blu-rays for Father's Day include John Wayne in "The Comancheros" and Colin Ferrell in the oddball Vietnam War tale "Tigerland."