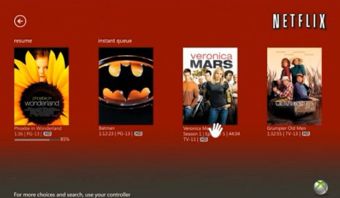 Netflix is now at your voice command — on the Xbox 360.
The Kinect-Xbox upgrade finally has gone live. It allows owners of the game console who also have Kinect sensors to simply speak commands such as "Netflix, fast forward," or to use their hands to control some of the streaming video functions.
Futurists will be a bit disappointed, however: The console remote control remains in the mix, as the voice and hands commands don't have complete functionality, yet.
The software update is mandatory for all Xbox 360 owners who access the Netflix application, regardless of whether they own a Kinect box. Similar talk-and-wave menu functionality already has been added to the game console's ESPN3 application and the Zune videos on demand.
To use the remote features, users need 1) Xbox Live Gold status 2) Netflix account with Watch Instantly 3) Kinect sensor and 4) a willingness to filter Netflix through the title-challenged Kinect Hub. Basically, once a movie begins it can be controlled with commands such as "Netflix, pause," but only so many movies can be called up without the old-fashioned remote.
Microsoft bills the technology as "controller-free entertainment" — as in, that family of remotes on the coffee table should be thinking about another gig.
Hulu Plus is in the wings for the Xbox, meaning the two major streaming movie and TV sites can be accessed via the game console. Images of Hulu Plus on the 360 sprang up on the Web this week. Both the Kinect and Hulu Plus additions were confirmed and demoed at the Consumer Electronics Show in January.
Here's a video preview of Hulu Plus on the Xbox 360.
"By integrating Kinect into the Netflix experience on Xbox LIVE, we're continuing to transform the way people enjoy their favorite entertainment in the living room," Pete Thompson of Xbox LIVE said in today's canned quote.
There are more than 50 million Xbox 360 owners worldwide, Microsoft says. 30 million of them subscribe to the multimedia Xbox LIVE service. A fifth of the 360 owners also have Kinect sensors, which go for about $140 on Amazon.
The music and video applications on the Xbox 360 no doubt are driving sales for the console, with consumers always looking to host fewer black boxes in their living rooms. The Microsoft console has been No. 1 in sales all year. February sales were up 27% year over year, Microsoft says.
The big missing piece for the 360 is a Blu-ray drive, long featured on Sony's rival PSP3 console. PS3 and most higher-end TVs and Blu-ray players also have network access to Netflix, Hulu Plus and other content aggregators.
A major software/firmware update to the Xbox 360 is in beta, expected to go live by summer.