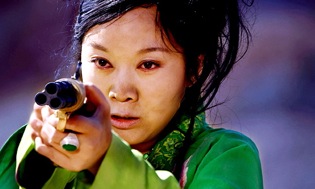 Brimming with color, noise and slapstick, Zhang Yimou's "A Woman, a Gun and a Noodle Shop" plays the yang to "Blood Simple's" yin.
The Coen Brothers' "Blood Simple" (1984) was a dark affair, full of shadows and pinpoint light, its noir imagery seared into memory by key scenes of nightmare-inducing violence. A curious choice of remake material for a Chinese director looking to show off his sense of humor.
While "Noodle Shop" won't test anyone's love for the Coen Brothers' devilish debut film, the re-do certainly deserves a look from fans of the original — and, of course, from the many admirers of director Zhang ("House of Flying Daggers," "Raise the Red Lantern").
Zhang's remake (a first for the Coen catalog) transports the ever-twisting tale of adultery and revenge from contemporary rural Texas to outback China of the 17th century. Zhang and his cinematographer Zhao Xiaoding mine the harsh beauty from the desolate land (Lanzhou), where the roads, hills and sky collide in many a scene.
Characters dress in explosions of color (as if to ward off the harsh environment), especially the deceptive lovers at the heart of the story. They're played by Yan Ni (the lady in vibrant green) and Xiao Shenyang (a cook given to pinks and reds, all aflutter).
Sony Pictures Classics' Blu-ray of A Woman, a Gun and a Noodle Shop
captures all this color and motion beautifully, the images delivered in HD-showcase quality with plenty of 3D-like pop. Audio and subtitles are up to task.
The primary Blu-ray extra is a feature-length accumulation of documentary footage, sans narration. Zhang was a busy man in those days; we see him in preproduction with "Noodle Shop" while commuting to Beijing to oversee an elaborate celebration of revolutionary China's 60th anniversary.
Zhang, a dour but sporadically animated man, spreads about his expertise in dance, archery, makeup, special effects, ancient armor and archery.
"No one as pockmarked as you has ever appeared in Chinese cinema," Zhang tells actor Ni Dahong as the director takes charge of a character-defining makeup session. Zhang calls for more pockmarks on the actor's bald head while expounding on smallpox's ravages of ancient faces. Veteran actor Ni later mutters, "I can't go on red carpets like this!"
Ni plays the cuckolded husband (Dan Hedaya in "Blood Simple") while Sun Honglei is the crooked investigator with a Terminator streak (M. Emmet Walsh in the Coens' film).
Comic relief in both film and documentary comes from young actors Cheng Ye and Mao Mao, who play Shakespearean fools trying to find something for themselves as the deception and violence unfold.
View an A-B scene comparison of scenes from "Blood Simple" and "Noodle Shop" by the New York Times' A.O. Scott.
Check out Glenn Abel on Google+