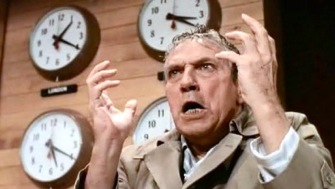 "I think I'd like to be an angry prophet denouncing the hypocrisies of our time," fallen news anchor Howard Beale tells co-workers in the opening minutes of the media-bashing masterpiece "Network."
Director Sidney Lumet and writer Paddy Chayefsky, equally mad as hell, used their black comedy about a raggedy fourth TV network to denounce the hypocrisies of 1976 and warn of media evils to come.
Lumet made many fine and sober movies, but when word of his death spread April 9, "Network" was among the most frequently cited works in reports of his passing.
Those wanting to revisit the 1976 film or catch it for the first time are in luck, as a Blu-ray version of "Network" was released Feb. 15. The previous special edition came out in 2006. The Blu-ray ports over those extras and offers some middling upgrades in audio and video.
Lumet was heavily involved in creation of the bonus features.
Like Chayefsky's creation Sybil the Soothsayer, "Paddy was capable of seeing the future," Lumet says. Chayefsky warned of entertainment masquerading as news, corporate meddling, violent reality shows, the tyranny of ratings, foreign ownership of U.S. media — essentially the strip-mining of what already was a vast wasteland.
"The vision that the movie displayed so eloquently is alive today," producer Howard Gottfried maintains. Adds Lumet, "TV today has become its own satire."
The Blu-ray includes a subdued but quite good commentary from Lumet, who focuses on who won what Oscar, why he rehearsed actors and the thinking behind the "Network" lighting scheme, in which "even the camera is corrupted" as the movie descends into anarchy.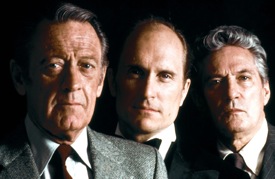 The extra features centerpiece is a making-of by DVD docu specialist Laurent Bouzereau. It includes chapters on the late Chayefsky, the "mad as hell" phenomenon and the film's powerhouse actors. The docus cover a lot of material and get the job done, but don't expect much of that loopy "Network" spirit.
Also, Chayefsky ponders "Network" on a segment of the talk show "Dinah!" And there's an hourlong Lumet retrospective from 2005, when he received an honorary Oscar, partly to atone for oversights that included not getting the best director award for "Network." ("Rocky" won.)
Aside from "Network's" on-air killing of a TV personality — "because he had lousy ratings" — all of its outrageous events happened in real life, Lumet points out.
"Network" anchorman Beale (Peter Finch) starts his wild ride by threatening to kill himself on camera. Crazy talk, but it mirrored headlines of the time. In 1974, as Chayefsky was writing "Network," a Florida TV personality shot herself to death on a morning show, saying it was "in keeping with (the) policy of bringing you the latest in blood and guts." In the world of "Network," an on-air suicide was good for "a 50 share, easily."
The home video hit "Faces of Death" followed "Network" by two years, launching an above-ground snuff franchise. "Cops," "The Morton Downey Jr. Show" and Howard Stern were in the wings.
Today, death and violence — real and imagined — do brisk business in all media. News divisions draw and redraw the line between electronic journalism and morbid pandering. Freeway chases don't always end with surrenders and handcuffs, a percentage play that keeps viewers tuning in at 10 and 11. Local TV news "is as corrupt as anything I've ever seen," Lumet charged.
As for death in primetime, the director said: "On one of the reality shows it'll happen. There will be a real death. And it'll be shown to you, I promise."
Ratings are money, Chayefsky said in 1976. "If you follow the desire to get ratings … we will pursue this right into 'Coliseum '77' — in which we will throw Christians to the lions every Saturday night."
The message of "Network," he said, was, "When do we say 'Hold it!' A human life is a hell of a lot more important than your lousy dollar."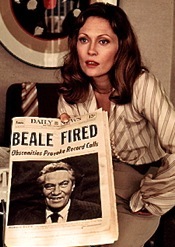 Star Faye Dunaway reflects: "The reason ('Network') was so funny was because it was so outrageous. You're thinking, 'C'mon, nobody's going to kill somebody on television, are they?' And now we sort of think, yeah, we think so."
Walter Cronkite, who worked with Lumet on the historical re-enactment series "You Are There," recalls CBS news staffers' reactions to "Network": "I understand it was supposed to be a combination of drama and comedy, but to us it was all comedy — it was so overdrawn. … We howled with laughter."
Chayefsky talked extensively with NBC's John Chancellor but otherwise relied on his own adventures in live television. Cronkite says accusations that Chayefsky and Lumet were turning on the medium that made them were just "sour grapes from some who were envious." Adds Lumet: "We didn't leave TV. It left us."
Of ratings demands on network news, Cronkite says, "It is a fact that the pressure is there" to entertain. But taken too far, "The newspeople would revolt, pressure and maybe quit." As they did in "Network." Sort of.
Cronkite, whose daughter Kathy played the film's Patty Hearst lookalike, says the film's legacy is "it waved a banner of warning to the TV industry that it better not let things do as far as it did on that (UBS) network."
Faye Dunaway's portrayal of lone-wolf programming vp Diana Christensen — "All I want out of life is a 30 share and a 20 rating" — won her the best actress Oscar. Her top-billed performance grabs the most attention in the Blu-ray extras.
Diana, "who learned life from Bugs Bunny," stalks the sagging UBS network's news division, eventually hijacking its madman anchor for her evening news carnival. The ratings potential of her show "The Mao Tse-Tung Hour," featuring the criminal exploits of black radicals, brings the slinky executive to orgasm. She beds the everyman news chief (William Holden), stealing him from his wife and then stealing his division.
The part "wasn't easy to say yes to," Dunaway says. "I was advised not to do it. Because, you know, she didn't have a soul. She was a TV baby. There was a vacantness behind those eyes. People were afraid I'd be thought of that way."
Lumet says he and Chayefsky liked the idea that Dunaway and Robert Duvall could pass as Heartlanders, because so many network execs hail from the Midwest. Of Duvall's immersion in the character of a greedy network overseer, Dunaway says, "He never lies. He never pretends. It's always happening to him." Lumet calls the casting of "Godfather" player Duvall in a comic role "my act of lunacy."
Theater veterans Dunaway and Finch helped Holden adjust to Lumet's drawn-out rehearsals, a new one on the longtime film star. Dunaway says rehearsals "always struck me as insane not to do" on films.
Three "Network" players won Academy Awards: Dunaway, Finch (posthumously) and Beatrice Straight. There were five acting nominations in all, making the cast the most honored in Oscar history.
Straight, a stage actress, took home the supporting actress gold for one five-minute scene, in which Holden's newsman tells his wife of 25 years he's in love with the beautiful young programming exec. Her reply, in a heartbreaking monologue, contains some of Chayefsky's finest writing. Lumet says he deliberately exhausted the actress by making her do repeated takes, then captured this amazing scene.
Ned Beatty, who played a corporate chieftain, likewise was nominated for a single scene in which he uses the voice of doom to warn Beale that he's "meddled with the primal forces of nature." Beatty, who mimicked his hometown holy roller for the tirade, describes himself as just "a day player" on the film.
"Network" couldn't beat "Rocky" in the best picture race, a loss that Chayefsky took hard. "I think it's a hell of a film," he told Dinah Shore.
Check out Glenn Abel on Google+