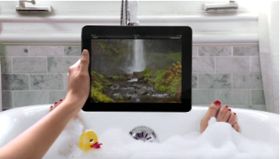 After complaints from TV and cable networks, Time Warner Cable has pulled the plug on MTV and other popular channels that were being fed to subscribers' iPads.
Time Warner wasted no time in launching more than 20 national channels for its iPad app over the next two days. The additions range from the essential — AMC, CNBC, Disney — to the also-rans — Chiller, Soap, Bloomberg.
TWC called out Fox, Discovery and Viacom thusly: "Instead of rowing down the river of history and into the future, these programmers have chosen to sit on the bank and kick rocks."
Update: Time Warner Cable and Viacom sued each other over the iPad app on April 7. TWC asked the court to confirm its right to display content in any way it chooses inside subscribers' homes. Viacom's suit alleged copyright violations and breach of contract. /update
The iPad app was downloaded more than 300,000 times in its first month, according to week-old figures from TW.
TV everywhere? Not really. The service works only within range of home broadband-connected networks using TW's Roadrunner pipes. And so TWC argues that it's feeding just another in-home screen, while the content owners see the specter of lost zillions in online programming fees.
The channels yanked off the TWCable TV iPad App include Animal Planet, BET, CMT, Comedy Central, Discovery Channel, FX, MTV, National Geographic, Nick, Spike and VH1.
"The lawsuits were literally on the verge of being filed when Time Warner Cable said uncle," the L.A. TImes reports.
TWC press-released the matter like so:
For the time being, we have decided to focus our iPad efforts on those enlightened programmers who understand the benefit and importance of allowing our subscribers — and their viewers — to watch their programming on any screen in their homes. In the meantime, we will pursue all of our legal rights against the programmers who don't share our vision.
Jeff Simmermon, TW Cable's director of Digital Communications, has been firing back at the cable networks via his lively Time Warner blog Untangled:
"They don't want us to talk about this publicly for fear of bad PR — as though our customers are incapable of Googling a few news stories and cross-referencing them against a thinning channel lineup," the in-house hipster wrote.
During an earlier cheerleading session Simmermon noted: "The entire concept of television is melting right now. It's oozing off of the credenza and into any number of other rectangular forms."
The Business Insider blog had this take: "Time Warner Cable — which should have seen this coming long before it launched the app — is running away."