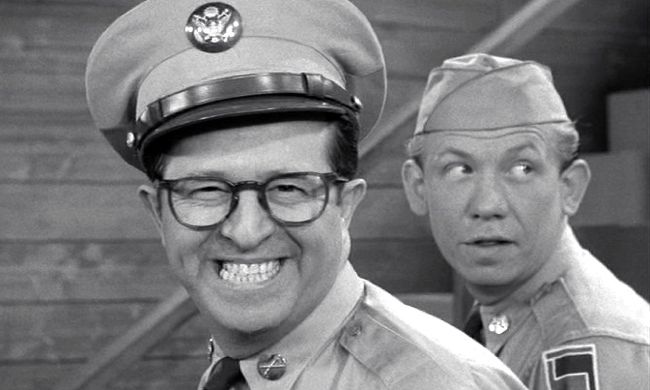 Count your fingers and check your wallet after opening "The Phil Silvers Show" box set. Hear that strangled cry, kind of like a drill sergeant caught in a bear trap? It means the con is on. The fix is in. Master Sgt. Ernest G. Bilko is back in the game.
The show opens in mythical Fort Baxter, Kan., circa 1955. The Army base has a commander, but the man in charge is Sgt. Bilko, bald & beautiful with a giant grin and a wink that always signals Scam Ahead.
"Play poker with you?" asks an incredulous member of his platoon. "What do I look like, a suicide squad?"
The hit series ran on CBS from 1955-59. Everyone calls it "Sgt. Bilko," but the show wobbled through several title changes. A military manual writer probably came up with this doozy in Season 1: "The Phil Silvers Show — You'll Never Get Rich Starring Phil Silvers." Episodes commenced with the sound of the Bilko Growl, Silvers' bizarre interpretation of a marching command.
Often called the first TV ensemble comedy, "Bilko" consistently was a hoot, among the best-written and wonderfully acted shows of TV's first half-century. Sure, "Seinfeld" could take on "Bilko" hand-to-hand, but most other sitcoms come up worthless and weak by comparison. Many of the classic scripts were written by series creator Nat Hiken and Billy Friedberg. "The pages they threw out would make a hit show today," says Mickey Freeman (Pvt. Zimmerman), who does a few commentaries on the DVDs.
Paramount has unleashed "Sgt. Bilko: The Phil Silvers Show — 50th Anniversary Edition" in a three-disc set with 18 beautifully remastered episodes and a generous but scattered collection of extras. The set begins with the pilot and ends with the final episode, leaving Bilko behind bars, still grinning: "That's all, folks!"
Similar to Paramount's releases of "Gunsmoke," the selections favor appearances by guest stars who went on to fame. And so we have episodes with youngsters Dick Van Dyke, Alan Alda, Fred Gwynne and George Kennedy, as well as scripts by Neil Simon.
"These were classic actors doing classic comedy, and they were doing it (live). No retakes," says Kennedy, another commentator. The future Oscar winner was an Army captain in '55, assigned to stand watch over the New York-based production. Mostly he watched Silvers. "It was better than going to the Actors Studio."
Van Dyke, who made his TV debut on "Bilko," notes that Silvers recycled his shtick from the burlesque days. "I was always fascinated with Phil's sense of timing. Incredible. … I don't think a lot of (actors) have that today. They rely on the film editor to do it for them."
Silvers loved to talk over other actors, giving the dialogue a realistic charge. "I'm an impatient comedian," Silvers says in one of the extras. "And I feel the audience is as impatient as me."
A lot of the show's charm came from Silvers' supporting cast, including Paul Ford as the long-suffering base commander and Maurice Gosfield as the slob Pvt. Doberman. Ford, master of the dumbfounded stare, was the only cast member who could steal a scene from Silvers, Kennedy says.
What seems ad-libbed on "Bilko" was carefully scripted and rehearsed. Kennedy points out a favorite scene teeming with character actors: "Nothing on that screen is dead. It's alive, it's vibrant, and they've been going at it (in rehearsals) for five days straight."
Among the DVDs' classic episodes are "The Twitch" — Bilko starts a frenzied betting scheme over how many times a heavyset lecturer will adjust her girdle — and "The Court Martial," with Bilko acting as defense attorney for a chimp. Van Dyke's "Hillbilly Whiz" saw New York Yankees Phil Rizzuto, Yogi Berra and Whitey Ford drop by in Old South mufti. ("They all loved Phil.")
The DVDs' black-and-white images look outstanding — clean, detailed, with spit-shine blacks and Silver Star grays. Audio is good enough for government work, but apply too much volume and it turns shrill and insubordinate.
Extras sprawl over the three discs. The lack of a "Bilko" documentary is a shame (somebody drop and give us 50), but viewers still can piece together the series' history.
The most interesting bonus feature is Silvers' last TV interview, from 1985, just before he died. It's heartbreaking to see Silvers as a stroke victim, but he had some good stories to tell. Another winner is a five-minute segment of "The Dick Cavett Show" from the '70s with Silvers and his pal Jack Benny. Touching and quite funny.
Allan Melvin (Cpl. Henshaw) does breezy episode intros that give away a few too many plot points. They can't be bypassed. A look at the original opening titles includes a big fat promo for Camel cigarettes, and there's an ad with Silvers puffing away after the show. A 30-minute "audition pilot" (low-grade kinescope) has Jack Warden in Melvin's role.
The seven-minute "Phil Silvers on Broadway" clip features a barracks bit with the gang. There are clips of Silvers and his writers picking up Emmys that should interest anyone interested in TV stars of the 1950s. Silvers' gig as pitchman for CBS' 1963 lineup falls flat (it's also on the "Gunsmoke" set). He fares better as host of a Humphrey Bogart roast. An "Ed Sullivan Show" skit introduced the "Bilko" ensemble to the nation just before the premiere, with Sullivan correctly predicting the series would be a smash hit.