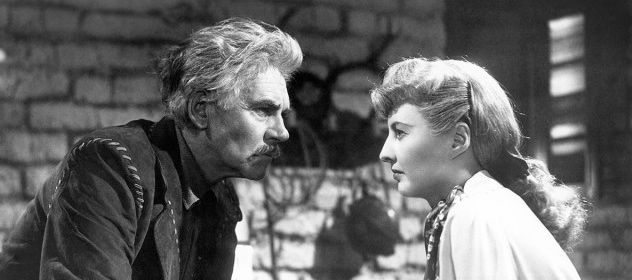 Anthony Mann looks like the man of the year on DVD.
The late director's "El Cid" and "The Fall of the Roman Empire" received the regal treatment from The Weinstein Co. as it debuted its new Miriam DVD collection. Despite some quibbling, these are considered two of the year's best home video titles.
Now comes "The Furies," Mann's emotionally deep and improbably entertaining western from 1950. Coming from the Criterion Collection, Mann again provides us with another of the year's most welcome releases — especially considering that "The Furies" hasn't been seen all that much in the past half-century.
The movie belongs to Barbara Stanwyck, as usual, but she gets a mighty headwind from Walter Huston, who died shortly after this western premiered. Then there's the offbeat work of Wendell Corey, whose unusual looks and ambiguous characterization further to the movie's great distance from the era's typical westerns.
Criterion's commentator, Jim Kitses, says "The Furies" is "a hybrid genre" film — part western, part film noir, part romance, part family melodrama. The case may be overstated; to me it's a smart western, clearly ahead of its time, more in tune with Orson Welles than John Ford. YMMV.
T.C. Jeffords (Huston) lords over a gigantic cattle ranch in new Mexico, aptly titled "The Furies." He's getting up there in years, but doesn't mind wading into some deep muck to rescue a calf. T.C. has his enemies, among them a saloon owner (Corey) whose father saw the family land sucked up by the Furies. Then there are the people of the land, the Mexican "squatters," tolerated by T.C. until the bank wants them gone.
T.C.'s dandified son proves a washout, so he sees the ranch's future in his thirtyish daughter Vance (Stanwyck). The beautiful wiseass seems to be sleeping with the enemy, however. Vance loves the saloon owner who hates her father, and has an undefined physical relationship with a squatter hombre with whom she grew up.
Then there's the strange sexual tension between father and daughter, never really resolved but front and center as the film opens. The Shakespearean end game commences when, in a fit of anger, she throws some scissors and cuts open her would-be stepmother.
The Criterion DVD comes with a 267-page paperback of the novel by Niven Busch.
Commentator Kitses brings his own odd vibe to the DVD set, with a stiff talk that's clearly been written out as if for a lecture. Here he is on the "Furies" mashup of styles:
"It's a post-modern blend before its time, one that indulges its mood swings by invoking different genre conventions and settings to fit the moment."
Thing is, once you get used to the lecture-hall tone, Kitses proves a first-rate commentator, one who's clearly burrowed deep into this deep movie and can extend your experience. Well done, sir.
The other extras feel a bit light, at least for Criterion. Director Mann is interviewed by British TV in 1967, a so-so session. A new interview features his daughter, Nina, who's getting a lot of camera time these days. She talks about how, as a kid, she looked to her absentee father's films for clues to how he felt about his children.
A fun short has a barrel-chested Huston interviewed by a newsreel beauty at his Hollywood home, years before this fine movie was made.