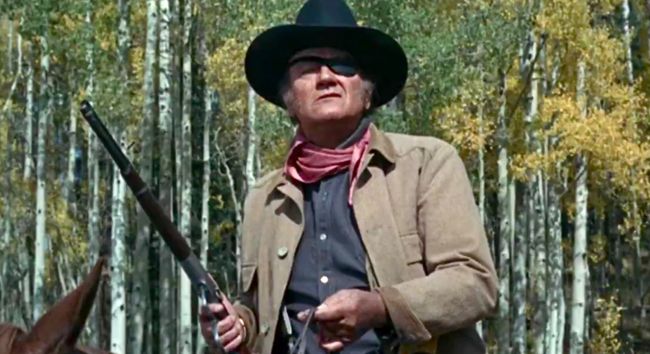 John Wayne's belated Oscar came for 1969's "True Grit," a rousing entertainment that didn't stand quite as tall as, say, "Red River" or "The Searchers."
Paramount Home Entertainment rereleased the the old favorite in a double-disc DVD set as part of the studio's 100th-year Wayne promotion with Warner Home Video.
The Duke plays one-eyed bounty hunter Rooster Cogburn. Valley girl Kim Darby plays a teen bent on avenging her father's death. Darby, who gives a sensational performance, stood toe-to-toe with Wayne onscreen and off, the bonus features note.
The extras aren't deep, but the docu "Working With the Duke" does a decent job of positioning "True Grit" in Wayne's sunsetting career. Perhaps mellowing with age, right-winger Wayne went to bat for the hiring of blacklisted screenwriter Marguerite Roberts, who was "weaned on stories about gunfighters."
The images of Colorado (2.35:1) are suitably sweeping and majestic. An extra feature returns to some of the "True Grit" locations, such as the graphic triple hanging.
Warner's revival of the Wayne-Howard Hawks collaboration "Rio Bravo" comes on strong as well, with versions on DVD, Blu-ray and HD DVD. The remastered Technicolor images (1.78:1) are faithfully on the dark side — everything feels like it's shot in a red-booth restaurant.
The high-def versions add a lot of contrast and some sharpness, but there's a whiff of colorization that might unsettle purists. The mono sound is gunshot-ready.
Don't miss the oddball jam session with Dean Martin, Ricky Nelson and Walter Brennan, a welcome breather in this lengthy western.
Disc 2's hourlong 1973 documentary on Hawks is the best film in the set, built around an expansive poolside interview with the old director. Hawks vents about "High Noon," whose depiction of a shaky lawman he rebutted with "Rio Bravo." The docu's director, the critic Richard Schickel, shares the commentary track with John Carpenter, whose "Assault on Precinct 13" was a "Rio Bravo" spawn.
Also of note in the recent swarm of DVD westerns is Jacques Tourneur's "Canyon Passage," the highlight of Universal's "Classic Western Round-Up, Vol. 1." The smooth, unusual 1946 movie about love and community stars Dana Andrews, Susan Hayward and the lute-totting minstrel Hoagy Carmichael.