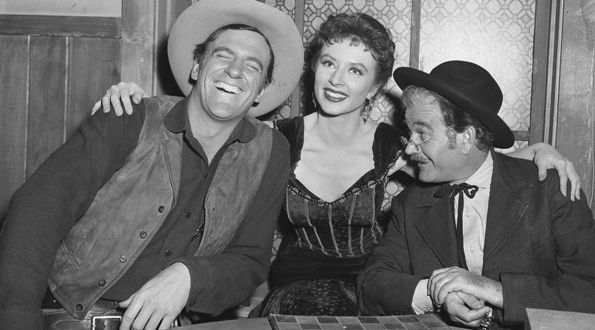 Saturday, Sept. 10, 1955. America's top-gun cowboy star had a few words for CBS viewers.
"My name's Wayne. Some of you may have seen me before. I hope so. I've been kicking around Hollywood a long time. I've made a lot of pictures out here. All kinds. Some of them have been westerns, and that's what I'm here to tell you about tonight. A western. A new television show called 'Gunsmoke.' "
And so with John Wayne's benediction, U.S. Marshal Matt Dillon, Miss Kitty and the good citizens of Dodge City set off on their two-decade ride across TV land.
What is the longest-running drama series in TV history? C'mon, everybody but the tadpoles gets that one. When the count finally stopped in 1975, the "Gunsmoke" episodes numbered 633. (Then there were a handful of telefilms to crank out.)
Paramount celebrated the amazing run of "Gunsmoke" with two fine "50th Anniversary" DVDs, loaded with episodes from all but two of the show's 20 seasons. (Update: Paramount has since answered fans' calls for the complete "Gunsmoke.")
Before "Gunsmoke" became a comfy institution, it fought hard for its TV turf. The show's dramatic early success often is credited to its adult subject matter, unheard of in TV Westerns of the early 1950s. (The series "is honest, it's adult, it's realistic," the Duke cautioned the first audience.)
Such "Gunsmoke" writers as Sam Peckinpah and series co-creator John Meston had the freedom to tell tales of rape, slavery, thrill kills, child abuse and, of course, prostitution. A long way from Zorro and the Lone Ranger.
Marshal Dillon opened the early shows with a visit to wind-swept Boot Hill, looking down on Dodge City, Kan. — the "Gomorra of the Plains." There, the 6-foot-6 lawman delivered an existentialist's sermon on killing and being killed. Many of the men buried there he gunned down, no regrets.
Miss Kitty, played by Amanda Blake for 19 seasons, ended up a well-rounded pillar of the community, but back in Season 1 she was a prostitute who dallied with the marshal on the side. The beautiful young Kitty worked the Long Branch Saloon, low-cut and good-to-go. Primetime viewers could see her girls in the background, escorting cowboys up the stairs.
What played in the Eisenhower years, curiously, was too hot for the Nixon era. "We can't do anything anymore," Blake complained in the early '70s. "It's awful, really."
The "50th Anniversary" DVD sets come with three discs each. Volume 1 covers 1955-64, with 17 black-and-white episodes. Volume 2's dozen shows aired from 1964-74, in black and white or color.
Images range from excellent to barely passable. The black-and-white shows look a bit flat but are solid overall; there's surprisingly little wear, considering. Check out the noir-influenced lighting that revealed the evils of Dodge City after dark.
The color episodes from the mid-'60s show their age; two are borderline unwatchable. One of the stranger shows ("The Jailer") feels like one of those old 3D demos, with the actors dressed in bright colors and garish makeup — like Fellini characters — to demonstrate TV's new color palette. A bizarre performance by Bette Davis (highlighted by her blue eyes and green teeth) completes the experience.
The DVDs' mono audio gets the job done — dialog is clear, gunshots sharp.
These two Paramount sets go for the star power. DVD producer Paul Brownstein corralled episodes with such guest stars as Charles Bronson, Jon Voight, Richard Chamberlain, John Drew Barrymore, Leonard Nimoy, Kurt Russell and Jodie Foster. In one show alone ("Romeo"), you get The Bad, the Man From Uncle and the Genie (Lee Van Cleef, Robert Vaughn and Barbara Eden).
The all-star approach yields a tree-ring view that wouldn't have been possible with greatest-hits collections. Some shows are definitely weaker than others, usually coinciding with one of the series' format changes. The writers, for example, didn't know what to do with all that extra time when the show went from 30 minutes to 60. There are plenty of terrific episodes, though, including star James Arness' favorites "Chato" (with Ricardo Montalban as a renegade Apache) and the charming comedy "A Quiet Day in Dodge."
The DVD sets' 11 commentaries include talks from guest stars Angie Dickinson, George Kennedy, Ed Asner and Bruce Dern. Arness, 82, provides two rewarding commentaries as well as short introductions to all of the episodes. Dennis Weaver (Chester) and Buck Taylor (Newly) also do talks. (Cast "family members" Blake, Milburn Stone (Doc) and Ken Curtis (Festus) all died before the DVD era.)
Extras are spread about the six discs. Most are short, upbeat and nostalgic. Among the more interesting bits are two 1970s talk show appearances with Blake, who tells Mike Douglas she left the show because she "couldn't take it anymore … (being) locked in this saloon all these years."
Another extra checks in with Ann Roberts Nelson, a CBS exec of 60 years who goes back to the original "Gunsmoke" radio show. She tells how network chieftain William S. Paley returned from vacation in 1967 to find his execs had canceled his favorite show. Paley ordered it back on the schedule, packing "Gilligan" off to Boot Hill.
There is no one DVD documentary covering the history of "Gunsmoke," quite the missed opportunity.