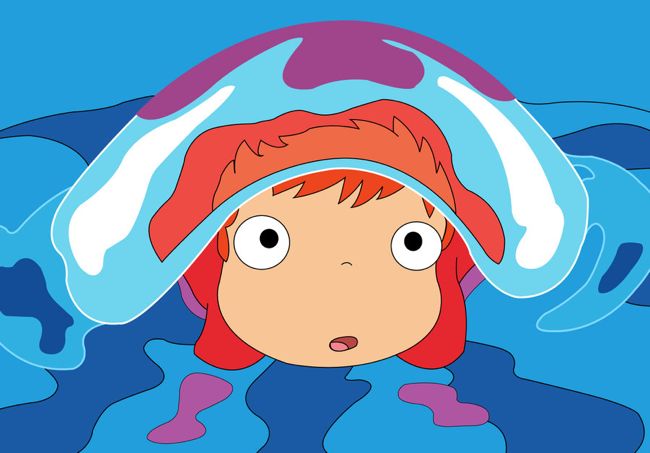 Stateside pleas for Blu-ray versions of Hayao Miyazaki's animation classics will only intensify with the high-def release of his latest film, the delightful "Ponyo."
The fish-out-of-water fantasy ranks as one of the best-looking animated features ever rendered in high definition. The hand-drawn images are brimming with color, movement and magic. Traditional animation has long been a dying art, but this artist's still on fire.
The Blu-ray is reference quality, startling in its visual clarity and dimensional pop.
Disney and Pixar's care and attention to detail are in evidence throughout the double-disc Blu-ray "Ponyo" set, with its ample mix of extra features for kids and adult animation fans. There is no commentary on the "Ponyo" Blu-ray, unfortunately.
The "Ponyo" story, aimed at kids about age 5, tells of a magical goldfish found by a boy who lives by the sea. The fish's many powers include turning into a oval-mouthed redhead human girl — much to the displeasure of her sorcerer father. This being Hayao Miyazaki's world, things get stranger by the minute until we reach the sunny ending.
For the English dub, Disney once again assembled a talented group of actors, including Liam Neeson, Tina Fey and Cate Blanchett. Noah Lindsey Cyrus plays the fish/girl. This track comes in vibrant lossless DTS-HD Master Audio that's quick to envelop the listener.
Alas, the Japanese track, the choice of many older viewers, comes only in standard Dolby (unlike in Japan). Subtitles are clear.
The home video debut of "Ponyo" inspired new two-disc special edition DVD versions of Miyazaki's "My Neighbor Totoro," "Castle in the Sky" and "Kiki's Delivery Service."
Unfortunately, these three titles from the 1980s don't come in Blu-ray. The upgrades from Disney's 2003-2006 DVDs come primarily in presentation and special features, which mirror the "Ponyo" package. ("Ponyo" also is available separately on DVD; the Blu-ray comes with a bonus DVD.)
All four titles benefit from new video interviews with Miyazaki and his key collaborators.
On "Totoro" (1988), Miyazaki tells of his career change from TV work into filmmaking. "I decided to do something different," he says in a terrific bit of understatement. Different included a Cheshire cat that doubles as a bus and the big goofy furry monster who became Studio Ghibli's iconic mascot.
The new "My Neighbor Totoro" DVD includes an excellent docu that surveys the real-life locations used as inspiration for the Japanese master's hand drawings. He says the "Totoro" visuals emerged from his midlife rediscovery of the Japanese landscape. The movie, aimed at kids a few years older than for "Ponyo," is set in "an (earlier) era when children still played outside."
"Castle in the Sky" (1986) and "Kiki's Delivery Service" (1989) are more conventional anime adventures that should please older Western kids. Disney's dub of "Castle" features Anna Paquin and Cloris Leachman; "Kiki" stars a young Kirsten Dunst and Phil Hartman (as a wisecracking cat).
Disney previously issued DVDs for "Spirited Away" and "Howl's Moving Castle," both fairly surreal films for older kids and adults. Here's hoping these Miyazaki stunners resurface soon … on Blu-ray.