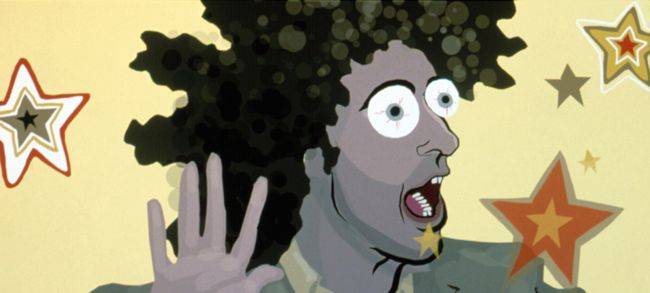 Sartre meets slackers in Richard Linklater's "Waking Life," a terrific film of ideas that's perfectly matched with the DVD format.
The animated meditation on dreams and man's place in the universe moves so quickly — and in so many visual styles — that viewers barely have time to absorb one concept before another comes rushing in. The pause and rewind buttons become essential tools, allowing viewers who are so inclined to discuss, debate and absorb the flurry of ideas Linklater presents.
An offbeat "text commentary" option unveils the sources of many of Linklater's musings, tracing many of the film's concepts back to historical thinkers. With the "Pop-Up Video"-style text along as a guide, the head-spinning dialogues and monologues build a grad-school-in-a-box.
Repeated viewings are a must for those seeking to absorb the film's plot devices and its often mysterious content. Of course, some people will be driven nuts by one viewing. Your mileage may vary.
Fox Home Video has released "Waking Life" in widescreen only accommodating anamorphic playback (aspect ratio 1.85:1). Colors are vivid and apparently flawless, with the work of "Waking Life's" many animators coming across in bold strokes. The Dolby Digital 5.1 sound nicely renders the dialogue with none of the center-track boominess that could ruin a film so dependent on dialogue.
The film's hero with a dozen faces is a young man (Wiley Wiggins of "Dazed and Confused") who wanders an urban dreamscape, encountering various guides and fellow sleepwalkers, most of whom have something to say about the meaning of life and the nature of death. The plot such as it is doesn't take form until midway through the film, giving the proceedings a wonderful surreal quality.
Adding to the disorientation is "Waking Life's" unique combination of live action and animation. Linklater shot the project on mini-DVD with real actors, whose performances were then rendered by a series of animators (their differing visions are on display in alternate scenes in the bonus features section).
Bob Sabiston, an MIT man who developed the software that melded the live action and art, offers a detailed tutorial on his techniques. He explains that the film's wiggly look is a result of hand tracing of video shots, with the images changing slightly from frame to frame because of slight variations in the artists' many renderings of the images.
Selected scenes from the live-action version of "Waking Life" should be enough to convince viewers of Linklater's wisdom in choosing animation. After viewing the film, the hand-held video scenes are distinctly lacking in magic, but they provide an interesting look into the process.
Linklater, Sabiston and Wiggins explain it all for you in a relaxed but focused audio commentary that will satisfy many viewers but could spoil the fun for others who would rather not look behind the curtain.
Linklater says the movie exists in "a parallel universe" to his 1991 film "Slacker," about student ghetto life in Austin, Texas. The filmmaker went home again for "Waking Life," enlisting professors and local characters from Austin. Linklater unmasks the film's players — including the chimp who teaches a class in existentialism — noting how several of them just fell into the project. Then, he says, "other characters started appearing to me recycled from other things I'd done" — including Celine (Julie Delpy) and Jesse (Ethan Hawke) of "Before Sunrise."
The story was constructed and reimagined in the editing room, with several key scenes moving from the beginning of the film to the end, Linklater says.
Other special features include deleted animation scenes, shorts by Sabiston, a blah promo featurette and the theatrical trailer.