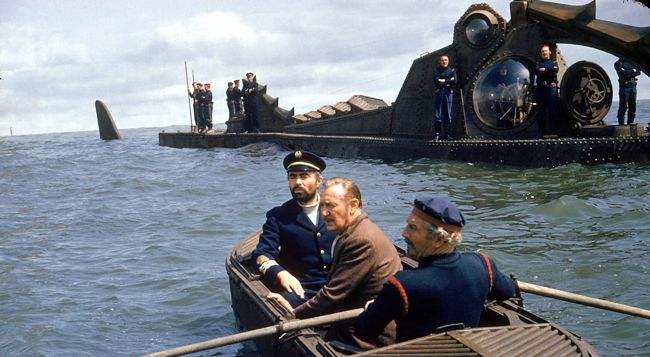 "This is terrible," Walt Disney said.
It was 1954, and the master of animation had just gotten his first look at the giant silly squid that was about to eat his studio.
Director Richard Fleischer was equally mortified as the men watched dailies from the Disney shop's first live-action film, "20,000 Leagues Under the Sea."
"So much was riding on my shoulders," Fleischer recalls today. "Including the fate of the studio."
The squid in question, housed on a $300,000 set, was supposed to be attacking the submarine Nautilus. Instead, the squid — in reality a studio-made "blob of who knows what" — was falling apart, sucking up water as stuntmen tried to make its sorry tentacles attack sea-faring actors. "The squid was practically worthless," Fleischer says.
Disney knew crap when he saw it, and immediately pulled the plug on the big-budget adaptation of Jules Verne's adventure novel. Word circulated that the studio was in big trouble. But Disney visualized a bigger, meaner squid. One that would leave audiences gasping. One that ultimately brought the squid sequence's total cost to $1 million — money Disney didn't have.
Desperate, Disney diverted funds from construction of his Disneyland theme park. "Walt was a great gambler," says his brother, Roy E. Disney, who was dispatched to drum up more money.
The new super-sized squid was a 2-ton beast, operated by 28 men who manipulated tentacles that whipped around powered by giant springs. The attack sequence, originally set at sunset in calm waters, was moved into a raging storm. Thirty wind machines whipped up so much water that it took years for the set to dry out. Actor James Mason almost drowned in the confusion. No one on the set had seen anything like it.
The squid saga was "a movie in itself," Fleischer says. "It was one of the most bizarre episodes of my career."
Eventually, the production did run out of money. Disney's backers demanded to see the film. Amazed, they wrote checks for another $1.5 million.
Disney's gamble paid off as word of the film's amazing effects spread. Worldwide boxoffice easily covered Disney's $5 million negative cost. "20,000 Leagues" resurfaced regularly for decades, electrifying generations of kids at Saturday matinees. Pretty much anyone who grew up in the wonder years saw it. Two Oscars rewarded the film's effects and art direction.
This week, the good ship Nautilus sails again, in a THX-certified double-disc set (retail $29.99). The first-rate package will keep the film's legend (and nostalgia) alive, while hauling in yet another load of "20,000" treasure for Disney.
The movie, one of the earliest to be shot in CinemaScope, comes only in the original aspect ratio of 2.55:1, with enhancement for 16×9 TVs. The radical crop yields dramatic visuals, especially on screens designed for widescreen. The Technicolor images sparkle. There are few signs of damage, especially considering the film is a half-century old.
Audio, in Dolby Digital 5.1, is adequate, heavily front-biased with limited effects routed to rear speakers. But for a minute, when Capt. Nemo plays Bach on his golden pipe organ, the rear channels spring magnificently to life. Too bad there aren't more moments like this.
The talky "20,000 Leagues" probably won't thrill kids fresh from "The Matrix," but they may be interested to know that the Verne film was the effects marvel of its day. The DVDs' generous collection of extras covers their creation, with insights from many of the surviving craftsmen.
Disc 2 includes a quartet of well-made new featurettes. One must-see extra unspools 16mm footage of the original squid attack. (We're talking "Mystery Science Theater" here.)
Director Fleischer, the son of Disney rival Max Fleischer (Popeye, Betty Boop), says he was "flabbergasted" when approached to do the film. He also was astonished by the lack of plot in Verne's book. There was no story to adapt, really, just a series of fantastic encounters.
Fleischer credits screenwriter Earl Felton with cooking up a "jailbreak" story line. A buff Kirk Douglas, a pudgy Peter Lorre and the film's narrator, Paul Lukas, play shipwrecked men rescued by the mysterious Capt. Nemo. Most of the film concerns Douglas and Lorre's attempts to escape from Nemo's sub, which runs on technology a century ahead of the tale's Victorian setting. The acting of Mason and Douglas should be a revelation to those who remember the film as an effects vehicle.
It was a harmonious shoot, except for the squid and Teutonic actor Lukas, who paced about the set threatening to sue everyone. Douglas and Lorre hit it off famously — "he was my buddy," Douglas recalls warmly in recent (post-stroke) footage. A few of their impromptu comedy bits made it into the movie; others are in the extras. (Lorre says the squid got his usual role.) Fleischer remained "dear close friends" with Mason, Douglas and Lorre.
Underwater scenes were shot in Jamaica, near where the original "20,000 Leagues" silent was made in 1916. The DVD extras contain a lot of fascinating color footage of the dive team at work. At one point, 38 men were under the waves, setting some sort of record for number of divers down.
Like many filmmakers and actors, Fleischer is no fan of working on water. "The sea is there to defeat you," he says. "It is always there to do you damage." The actors were unable to swim while wearing their ornate 150-pound underwater costumes, making for some tense times when the air was running out.
The making-of featurette is packed with great tales and color production footage. Too much of the material in the extras is repeated on the director's feature-length commentary, in which Fleischer tells his well-worn stories to a slow-talking film historian.
The extras repeatedly pay tribute to production designer Harper Goff, who built the Nautilus, basing it on the bodies of sharks and alligators (Verne's sub was smooth and futuristic.) Goff "had an extraordinary ability to put himself in Victorian times," one co-worker says. Goff discusses his concepts on old videotape. Also justly celebrated are set decorator Emile Kuri and matte master Peter Ellenshaw. In a nice touch, a featurette covers music man Paul Smith, a gifted but low-profile Disney lifer best known for "Pinocchio."
The featurette "Explorers of the Imagination" makes the case for Verne and Disney as visionary brethren. Another examines the real giant squid, found in the Pacific off Mexico (yes, they will eat you). Disc 1 kicks off with "Grand Canyonscope," the original Donald Duck cartoon that preceded "20,000 Leagues."
Other extras include unused animations of deep-sea fish, a storyboard-to-scene comparison, a rewarding 4 1/2-minute trailer, production galleries and some audio clips.