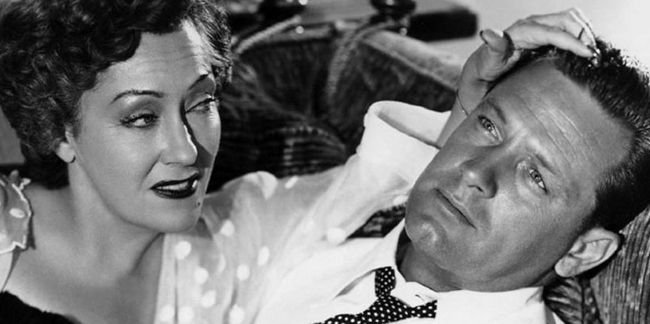 "There's nothing tragic about being 50," gigolo Joe Gillis tells the freshly face-lifted Norma Desmond in "Sunset Blvd." For once, Gillis gets it right.
Certainly nothing wrong with being 50 if you happen to look as good as Paramount's restored version of Billy Wilder's creepy Hollywood classic.
Filmed on unstable silver nitrate, the 1950 "Sunset" no longer existed as printed when Paramount decided to revive the black comedy for its archives and this DVD Special Collector's Edition.
The movie so closely identified with the studio survived only as flawed acetate copies of the original internegative. They were converted to digital at 2,000 lines — a resolution double that of high definition. Restoration specialists Lowry Digital Images went through the film frame by frame, buffing out scratches and removing the dirt. After several years' work, the results were transferred back to 35mm prints, and DVD. ("Roman Holiday" had a similar rescue, and these restoration efforts are detailed on that DVD but not on "Sunset.")
Like tarnished star Norma, who can't be expected to play 25, the rescued "Sunset Blvd." images have their ups and downs, but their inner beauty can't be denied. Purists can quibble over the homogenized digital video — the amount of grain, lack of resolution and shimmering — but the rest of us will be too busy savoring this tale of bad craziness in the Hollywood Hills.
The film is presented full frame (1.33:1), as Wilder shot it. Sound is mono — mostly OK, sometimes darn good. Dialogue is crystal clear.
Ed Sikov, author of the book "On Sunset Boulevard: The Life and Times of Billy Wilder," does the feature commentary with a chatty, often awkward tone that will put off some Students of Film. He's clearly reading from notes.
But Sikov has the film down cold and views it with a great eye — check out his description of Norma (Gloria Swanson) as a claw-handed Nosferatu in the shot at 20:45. (This is "a monster movie at times," Sikov notes.) Or how he calls attention to former silent actress Norma disdainfully brushing away a boom mike that ruffles her feather during the visit to Stage 18.
When Norma screens one of her old silents, it's "Queen Kelly," the unfinished 1929 movie that helped kill the silent-film careers of Swanson and "Sunset" butler Erich Von Stroheim (the legendary director of "Greed" who had turned to acting). "A madman is directing this picture," Swanson complained of Von Stroheim way back when.
Sikov doesn't confuse Wilder with Bergman, and provides plenty of dish, including how William Holden's angry wife called "cut!" on the set when the director playfully let a kissing scene go on far too long, and how there was no love lost between Wilder and fellow director Cecil B. DeMille, who wanted a new car as partial compensation for playing his great self.
Swanson and Holden (Gillis) weren't the first choices for "Sunset"; the male lead was written for Montgomery Clift, who ultimately turned it down. Candidates for Norma included Mary Pickford and Mae West. But Wilder trusted fellow director George Cukor, who thought Swanson, a real silent star, was perfect.
The Swanson casting works, Sikov says, because like her character, the actress was a has-been eager for a comeback. He's careful to note, however, "that Gloria Swanson wasn't the crazy diva she appears to be in the film — she knew what she was doing." (Bonus production photos show a popular and vibrant actress at work, nothing like nutty Norma.)
Nancy Olson, who played the young Paramount script reader who falls for Holden, remembers in a too-brief making-of docu that Swanson "was the only one of all of us who truly understood the importance of this film, what it could become." (Too bad the insightful Olson wasn't included in the commentary.)
Like Wilder, Sikov has sympathies for all of the main characters — to a point.
Drag queens never get Norma Desmond right, he says with conviction, because they don't understand "she is still a great actress" despite all that pesky dementia. Both sides of her converge in the Charlie Chaplin sequence, just before tragedy strikes.
Of Holden's hack writer, face down in the pool, "He's been narrating 'Sunset Blvd.,' but he's understood nothing of what he's experienced," Sikov said.
He points out how even Olson's sweet script reader bares her teeth at Schwab's Drug Store when her wanna-be dreams are threatened.
Of particular interest to "Sunset" buffs will be the re-creation of the original opening that was laughed out of theaters by heartland preview audiences. Silent clips accompany script excerpts in which Joe's body visits the L.A. morgue and makes chat with the local stiffs.
The 26-minute making-of includes comments from Glenn Close, who played Norma on Broadway, and critic Andrew Sarris. Other extras include profiles of costume designer Edith Head and music man Franz Waxman, a terrific production photo gallery and a real-world guide to the locations used in "Sunset Blvd." You can still visit Joe Gillis' bachelor apartment, just north of Franklin on Ivar under the Alto Nido sign.