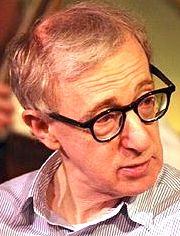 Woody Allen will write and direct his first television series for Amazon.
"I don't know how I got into this," the indie filmmaker quipped. "I have no ideas and I'm not sure where to begin.
The half-hour series will be available to Amazon subscribers with Prime Instant Video in the U.S., Britain and Germany. It received a full-season order, skipping the traditional industry vetting process.
"It's an honor to be working with him on his first television series," said Roy Price of Amazon Studios.
Allen added: "My guess is that Roy Price will regret this."
The Allen-Amazon deal is one of the highest-profile linkups to date in the streaming video universe, although the filmmaker remains well off his historic boxoffice highs.
Allen's latest films are the acclaimed "Blue Jasmine" and the less enthusiastically received "Magic in the Moonlight."
While this is Allen's first TV series, he is no stranger to the medium. As a young man, he got his start writing gags for "Candid Camera," "The Tonight Show" and Sid Caesar's TV specials.
Amazon Studios' "Transparent" just won a Golden Globe for best TV comedy. The series about a family man transitioning to a woman also won a best actor nod for Jeffrey Tambor.
Amazon Prime costs $99 a year. It includes "free" two-day shipping and unlimited access to Prime Instant movies and TV shows.