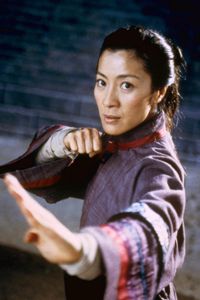 Fifteen years after "Crouching Tiger, Hidden Dragon" dazzled Western audiences with its wuxia moves, the martial arts adventure is getting a sequel — this time, debuting on Netflix.
The subscription service is teaming up for the project with arthouse veterans Bob and Harvey Weinstein. "Crouching Tiger, Hidden Dragon: The Green Legend" will receive limited theatrical distribution, via Imax cinemas, with the martial arts film opening day and date on Netflix next Aug. 28.
The director will be Yuen Wo-Ping ("Iron Monkey"), instead of the original's Ang Lee. Yuen did the acclaimed action cinematography on "Crouching Tiger." Actress Michelle Yeoh returns, however, working with HK star Donnie Yen ("Ip Man"). Star Chow Yun-fat's character died in the original film. The film's events are set several decades after those in the original.
Filming on "Green Legend" already is under way in New Zealand.
The deal gives Netflix its first simultaneous debut for what's perceived as a major theatrical film, albeit one on an indie budget. The news is not expected to sit well with the theatrical exhibition industry.
"The moviegoing experience is evolving quickly and profoundly, and Netflix is unquestionably at the forefront of that movement," said multiple-Oscar-winner Harvey Weinstein, who wasn't involved with the original Sony-backed film.
"We are tremendously excited to be continuing our great relationship with Netflix and bringing to fans all over the world the latest chapter in this amazing and intriguing story."
The companies said the new "Crouching Tiger" would be "the first of several major films backed by Netflix to premiere on the same day on the world's leading Internet TV network and in select IMAX theaters globally."
Netflix and the Weinstein Co. have entered into several content deals, including one for a "Marco Polo" miniseries to debut Dec. 12.