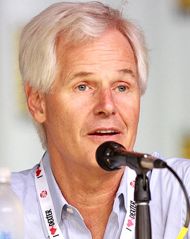 Amazon has graduated to hourlong dramas. Chris Carter of "X-Files" fame is creating the pilot "The After," while the Harry Bosch detective books provide inspiration for another.
As with previous Amazon pilots, with customers will vote on whether they live on as series on the Amazon Prime service.
Pencil it in as a landslide for Carter's new show, about people "who are thrown together by mysterious forces and must help each other survive in a violent world that defies explanation." Actors include Sharon Lawrence ("NYPD Blue"), Jamie Kennedy (the "Scream" movies) and Aldis Hodge ("Leverage").
Carter (pictured) didn't want to go into detail about the concept: "Let me just say that this is a show that explores human frailty, possibility, terror, and the triumph of the human spirit."
Michael Connelly's "Bosch" follows his LAPD detective as he hunts down the killer of a 13-year-old. At the same time, the homicide detective is standing trial for murdering a serial killer.
Titus Welliver ("The Good Wife," "Sons of Anarchy") plays the LAPD detective.
Connelly said the pilot was "something that's been 20 years in the making." He noted the synergy of Amazon and books, saying "Harry Bosch can be in no better hands." There are 26 Bosch novels as of 2013. Connelly's "Blood Work" was turned into a Clint Eastwood movie.
Roy Price, director of Amazon Studios, press-released on Oct. 31: "For the first time we are bringing Amazon customers hourlong programming and we can't wait to hear what they think of these new stories."
Carter said he was pleased to be working in streaming, the "new frontier of television."
"The After" and "Bosch" join nine other recently announced pilots for Amazon Studios: kid fare "Gortimer Gibbon's Life on Normal Street," "Grid Smasher," "Hard-Boiled Eggheads," "The Jo B. & G. Raff Show," "The Maker Shack Agency" and "Wishenpoof!"; comedy pilots "Mozart in the Jungle," "The Outlaws" and "Transparent." They'll be available for free viewing on Amazon Instant Video.
Upcoming series are "Alpha House" and "Betas." They'll be available for viewing only on Prime Instant Video, which requires an annual fee.