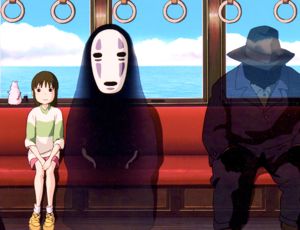 The union of showbiz superpower Disney and Japanese animation master Hayao Miyazaki would seem a case of strange bedfellows.
The Walt Disney Co., the mass producer of children's entertainment. Miyazaki, the painstaking auteur behind "Princess Mononoke."
Disney, the house of happy endings and familiar themes. Miyazaki, the creator of films that range from the fantastic to seriously weird.
Miyazaki, the animator who winces whenever he's called the "Walt Disney of Japan."
But the trans-Pacific alliance, ongoing since 1998, seems to be paying off.
(Update: Read a review of the Miyazakis' "Poppy Hill" on Blu-ray.)
In March, Miyazaki's dark jewel "Spirited Away" captured the Academy Award for animated feature, in one of the Oscars' best-received surprises.
The film's U.S. release got off to a shaky start last fall, with animation boosters grumbling that it was offered on no more than 700 screens. But with the Oscar win, Disney suddenly was able to justify a wider release. "Spirited Away's" grosses have doubled in the past month, to a respectable $10 million.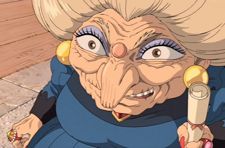 Now Miyazaki seems poised to find his largest U.S. audience with Buena Vista's DVD release of "Spirited Away" and two of his earlier, more accessible children's films.
"Spirited Away" in particular will be a revelation — and a test — for mainstream audiences. It is, indeed, a foreign film. While made for children, its parade of surreal and often disturbing images seems worlds apart from Disney's usual fare. At times, the film appears better suited for the Ecstasy crowd than the Nickelodeon generation.
Disney, to its credit, presents "Spirited Away" with no cuts or alterations — an essential provision in the deal with Miyazaki. The director's Studio Ghibli, in fact, had rejected previous offers to bring the master's films to the West before considering Disney's bid.
"I thought, this is an offer of an entirely different order," said Miyazaki's producer, Toshio Suzuki. "And I thought, maybe this is a legacy of Walt Disney."
Buena Vista has released "Spirited Away" in a two-disc set (retail $29.99). The film is presented in widescreen (2.00:1) with Dolby Digital 5.1 sound on its English-language track. Those preferring the original Japanese voice talent must settle for Dolby 2.0. Visuals and audio are up to studio standards.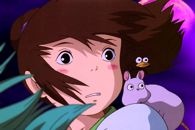 The story follows a sullen 10-year-girl who finds herself trapped in a world filled with spirits and scary monsters. U.S. vocal talent includes Suzanne Pleshette, Michael Chiklis, Lauren Holly and young Daveigh Chas.
The DVD set's extras work well as an introduction to Miyazaki. A Nippon TV making-of follows Miyazaki and his team of young animators as they create "Spirited Away."
"Have you ever seen a snake fall from a tree?" the detail-obsessed Miyazaki asks his team in a storyboard meeting. No? Then it's off to a restaurant to study the movements of eels.
Chihiro, the heroine of "Spirited," is based on the daughter of a friend of the director. "Anyone who comes within 10 feet of Miyazaki is likely to become a character in one of his films," the narrator says. The voracious "No Face" monster — "desperate to enter the hearts of others" — is apparently based on the director himself.
The docu slips into "Iron Chef" territory as it chronicles the team's deadline pressures — "Something's wrong with the copier!" — but it's a peek at Miyazaki's working life that should intrigue pros and ani fans. Of particular interest are the extended scenes of the director, 62, coaxing performances from his young vocal talent.
A second making-of piece — standard issue Disney — covers the U.S. team's work on translation and dubbing. English-language writers Cindy and Donald Hewitt tell how they struggled to translate concepts such as the Japanese kids' hand sign for a "cootie shot."
Disney's animation heavyweights line up to praise Miyazaki.
Hendel Butoy, director of feature animation for the studio, calls him "the greatest animated director alive today." Dave Bossert, artistic coordinator, says he thinks of Miyazaki as "a great conductor."
Pixar's John Lasseter, who introduces all three films on DVD, tells how he screens Miyazaki's films for his animators as a cure for creative block.
Other "Spirited Away" extras include storyboard-to-scene comparisons and a generous collection of original Japanese trailers that seek to draw in audiences via cliffhanger endings.
"Castle in the Sky" (1986) and "Kiki's Delivery Service" (1989) are more conventional anime adventures that should please Western kids (both two-disc sets retail for $29.98). Disney's dub of "Castle" features Anna Paquin and Cloris Leachman; "Kiki" stars a young Kirsten Dunst and Phil Hartman (as a wisecracking cat). Both DVD sets include hurried "Behind the Microphone" promo pieces on the U.S. voice talent. The second discs rerun the films with only Miyazaki's original storyboards and the audio track in either Japanese or English.