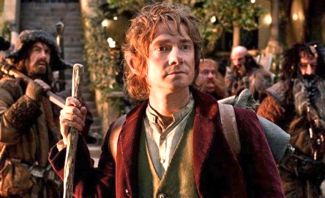 The extended Blu-ray edition of "The Hobbit: An Unexpected Journey" is making its journey to market with 13 additional minutes in the film and a super-sized nine hours of extras. The upgraded home videos arrive Nov. 5.
"The Hobbit: An Unexpected Journey, Extended Edition" will be available as a five-disc Blu-ray set ($55 SRP) that features the Blu-ray 3D and Blu-ray versions; a three-disc Blu-ray ($36); and a five-disc DVD ($35).
Warner Home Video is releasing a digital download of the extended film Oct. 22, giving hardcore fans an early look-see.
The theatrical version of the 2012 fantasy film was released to home video in mid-March.
The second film in the Peter Jackson trilogy, "The Hobbit: The Desolation of Smaug," opens in theaters Dec. 13.
Home video extras include a feature-length commentary with director Jackson and his co-producer/screenwriter Philippa Boyens.
The main extras are labeled "The Appendices," described like so:
A multi-part chronological history of the filming of "The Hobbit: An Unexpected Journey," covering pre-production in the various departments of the film in the months leading up to the start of principal photography, the boot camp training for the main cast, the work done on set chronologically through the three shooting blocks and in the world of its digital effects.
The existing DVDs and Blu-rays of "The Hobbit" featured 15 "video blogs," no doubt ported over to the extended package.
While Jackson's "The Lord of the Rings" films followed author J. R. R. Tolkien's trilogy structure, titles and all, the three-part "Hobbit" is a creation of the filmmakers. 1937's "The Hobbit" was a single fantasy novel, with the other three books (1954-55) loosely described as sequels.
The film was a production of New Line Cinema and Metro-Goldwyn-Mayer Pictures. It drew generally good reviews and picked up a trilogy of Oscar nominations.
The film's stars are Ian McKellen as the wizard Gandalf and Martin Freeman as the young dwarf Bilbo Baggins.