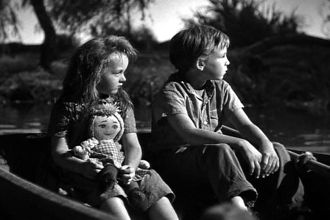 "The Night of the Hunter" director Charles Laughton, born in England, found old weird America a poetic place, one caught between the polarities of love and hate.
The hate came from Robert Mitchum's deadly preacher man, one of the great movie villains.
The love? It flowed like the river from a shotgun-toting Lillian Gish.
Criterion's brilliant Blu-ray set of "The Night of the Hunter" devotes an entire disc to a documentary composed of pristine rushes and outtakes from the film, most with background audio of Laughton directing his actors using both carrot (for the kids) and stick (on Shelley Winters). It runs 2 1/2 remarkable hours. Anyone with an interest in directing films would do well to watch Laughton, a notoriously difficult actor, handle his own actors.
A making-of docu tells how Laughton died never knowing that the one movie he directed became a classic.
The famously beautiful black and white images are presented in 1.66:1 widescreen, as intended by Laughton. The source was the original 35mm negative, which delivers the high contrasts with authority. Credit the restoration to the UCLA Film & Television Archive in cooperation with MGM Studios. The uncompressed mono soundtrack is quite good for its age, clear and never a distraction.
The feature-length commentary is a group effort from second-unit director Terry Sanders, the critic F.X. Feeney, archivist Robert Gitt, who saved the movie's rushes, and historian Preston Neal Jones, who wrote a book about the production.
Cinematographer Stanley Cortez is interviewed in archival material. Laughton biographer Simon Callow sits for a video interview. Gitt discusses his "Charles Laughton Directs 'The Night of the Hunter' " documentary with Leonard Maltin.