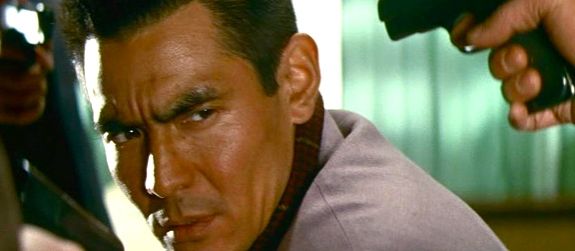 They have sniveling down to a fine art in Kinji Fukasaku's "The Yakuza Papers." Sniveling, weeping, groveling and myriad other abasements of the spirit. There's little nobility found in the clashes between Fukasaku's low-rent Japanese gangsters, only the "Battles Without Honor and Humanity" promised in the subtitle.
"The Yakuza Papers" consists of five sequential films made in the 1970s and largely unseen here before making their U.S. debut in a six-DVD set from Home Vision (now owned by Image Entertainment). Comparisons to the first two "Godfathers" seem inevitable, but "Yakuza" is a singular film experience — deeply rewarding for those with the stomach for its kinetic violence; overwhelming in scope and complexity.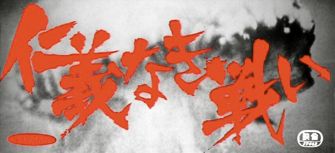 The box set thoughtfully provides a printed chart that helps viewers track the crime families that do battle over the quarter-century covered in the series. They'll need it. "Yakuza" rarely pauses to allow for reflection — this is a dizzying eight-hour hell ride through a time and place as foreign as they come.
Fukasaku, perhaps best known in the West for his bloody schoolboy fantasy "Battle Royale," entered young adulthood in the rubble of Japan, after the United States unleashed its A-bombs. Fukasaku was a member of the "black-market generation" for whom authority — the emperor or U.S. occupiers — meant nothing.
The first image of "Yakuza" is the atomic blast over Hiroshima. The opening scene shows American soldiers raping a Japanese schoolgirl. In Japan of the late 1940s, "Some people went crazy," says American filmmaker William Friedkin. "Fukasaku was one of those who was able to turn this chaos and degeneration into art."
Friedkin, whose talking-head interview kicks off the extras disc, calls Fukasaku "a master," comparing "The Yakuza Papers" to James Joyce's "Ulysses." No doubt a contemporary influence on the frantic hand-held camerawork was Friedkin's own "The French Connection," which the U.S. director says "very easy could have been done by Fukasaku."
Fukasaku looked past the stars of romanticized old-school yakuza films to find his lead, Bunta Sugawara, with whom he had just worked on "Street Mobster" (also on Home Vision). No one in "Yakuza" gets off easy, but Sugawara's existential Hirono character comes closest to a traditional hero as he makes his way from the streets to the top of the underworld. More typical is weepy crime boss Yamamori (Nobuo Kaneko), a cross between Don Corleone and Floyd the barber.
"Fukasaku wasn't worried about happy endings. He didn't have to redeem the good guys," Friedkin says. Fukasaku's son Kenta, also a director, notes that the stars of "Yakuza" serve as narrative catalysts, while "the real focus" is on the gangs' foot soldiers, who die in droves. Best not to become too attached.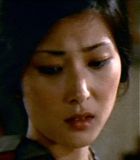 Home Vision, which had busied itself importing gritty yakuza films, gives Fukasaku's epic first-class treatment, starting with a metal container and an artful fold-out for the discs. Video looks tremendous, coming from films of their era and budget, with almost no speckling or other overt wear. Aspect ratio is 2.35:1, enhanced for 16×9 TVs. There are a few scenes with flashes of polarization and occasional image stretching near the sides of the letterboxed frames. The mono audio is solid.
One don't-miss extra is the interview with tough-talking translator Linda Hoaglund, who grew up in Japan as the daughter of missionaries. The films of "Fukasaku-san" were all about rage, she says. "He's ripping the lid off Japanese society: 'Take a look — it's wild here.' "
U.S. News & World Report journalist David Kaplan, who wrote the book "Yakuza: Japan's Criminal Underworld,"
gives a rat-a-tat-tat history of the crime families in postwar Japan, linking U.S. military intelligence to their rise. "Yakuza" was based on the writings of a real-life fallen gangster and fleshed out by talented screenwriter Kazo Kasahara, who found the humor and humanity in many of the characters.
Fukasaku biographer Sadao Yamane talks about the director's influence on Toei, once a factory for sappy, Robin Hood-style yakuza films. For an action movie revolutionary, Fukasaku "was a studio filmmaker through and through," Yamane says. A too-brief segment shows the director defending the violence in his films while walking through a scrap yard. Fukasaku died in 2003, with his star Sugawara holding his hand.
Update: Toei Video released a Blu-ray version of "The Yakuza Papers" in March 2013. Unfortunately, there are no subtitles.
The films listed above are specialty titles in the States. No telling the fate of Kinji Fukasaku videos here. My recommendation is to buy them now, or you're looking at home-video eppuku down the road.