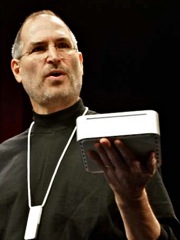 Apple TV appears to be a rare critical and commercial disappointment for Steve Jobs and Co. Help could be on the way. Apple is pressing on into the online video rental business, according to Britain's Financial Times.
Apple is in advanced talks with the major studios about the service, the Times reported on its web site. Apple now sells movie downloads via its iTunes store, but they're priced for sellthrough (sales).
A film would cost $2.99 for a 30-day rental. Its digital rights-management software would allow films to be moved from a computer to at least one other device such as the video iPod or iPhone. The software would prevent movies being copied. One studio executive said the service would "compete against cable companies and anyone else offering VOD into the home."
Time Warner CEO Dick Parsons may be a prime candidate for the service. "It'll be a cold day in hell" before he visits a video rental store, the exec told a media conference in London. TW is experimenting with same-day video-on-demand and DVD releases, as well as a TV network-enabled VOD model, Home Media magazine reports.
"Everybody is upset [VOD/DVD] is going to upset the 800-pound gorilla, Wal-Mart or Best Buy, but we don't think so," Parsons said. … "It is good for the cable company. It is good for the studios. And it is good for the sellthrough guys."