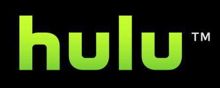 A mixed bag of video download-related news this week — let's cram it in with some speedlinks:
Hulu, the new online video site from NBC Universal and News Corp., is operating at least somewhat in the spirit of the web. Its beta search function produces hits on shows from rival networks such as CBS, ABC and A&E. Advertising Age has the Hulu story. …
"Why are fewer viewers watching the new fall television series?" the New York Times asks. "Perhaps because they are too busy watching video online."
More Hulu: NBC Universal vows something like 3,600 hours of Olympics coverage on its nbcolympics.com video site, most of it live. That's the spot to check out the weird Olympic sports like badminton that no one will touch on network TV. Oh yeah, the network said, some clips might will find their way to Hulu, the New York Post reports in a story on online Olympics ads. The B-status doesn't sound good for Hulu, Silicon Alley Insider reports.
Miro, the new open-source video player, was released midweek. TechCrunch lists the advantages over Joost thusly: "Miro is open-sourced, DRM-free, friendly to all content creators, connected to all the popular video sharing sites like YouTube and blip.tv, high definition, full of content, and BitTorrent-enabled." Mark Hendrickson calls it a "purer" player worth checking out.
High-definition: YouTube plans to serve up HD videos in the next few months. Reel Pop says streaming HD movies would contribute significantly to the video playground's overhead costs. Meanwhile, Vudu, the set-top box download system, is conjuring up high-definition titles from Paramount and Lionsgate. The P2P-driven player went on sale last month. Read some of the early reviews on Vudu.
AT&T's investment in Vobile — maker of "VideoDNA" technology for tracking videos as they cross networks — could lead to the telco blocking subscribers' dubious downloads, Silicon Alley Insider speculates. Bitstreamers could counter with a shift to VPN services, the site says. Virtual private networks keep the snoops away from your online streams — but anyone who's wrassled with one of these pain-in-the-ass connections would seek other remedies.