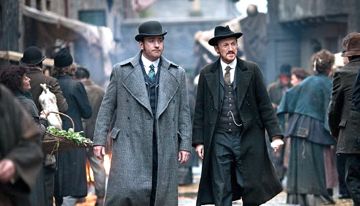 The shadow of wicked olde Jack hangs heavy over "Ripper Street." Is this a specter, or a warning of the Ripper's return?
The creators of this terrific BBC One series wisely keep Jack the Ripper sidelined, at least in the first season, which just wrapped season 1 on BBC America.
Good move. We didn't need another Ripper procedural. Think of it as a U.S. series looking at LAPD after the Nightstalker murders, or New York cops after Son of Sam. Life goes on, but with a clinical case of the jitters.
The scene is Whitechapel (in East London), less than a year after Mary Kelley became the last of the confirmed Ripper victims. H Division works a variety of murder cases in the rough-and-ready area, with Jack a suspect — or a handy scapegoat — in some of them.
Jack may be on call, but he really isn't needed:
"If you can think of something awful, it was happening (in Victorian London)," one of the series' key directors says. "Whitechapel's not an area that was short of vicious murders."
At the helm is Edmund Reid, a (real life) detective inspector played with a measured ease by Matthew Macfadyen ("Spooks"). His reluctant sidekick is a former Pinkerton agent who fled to England to save his skin.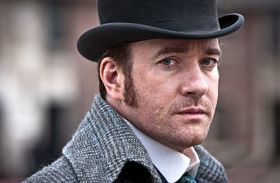 When sober or not in jail, the American (theater veteran Adam Rothenberg) has a knack for cutting open dead people and telling their tales. (Many years later, they'll call it forensic medicine and make lesser TV shows about it.)
Also on the team is Bennett Drake, a detective sergeant with a wicked punch and an unrequited love for a hooker with a heart of cold.
"Ripper Street," which debuted here in January, started off slowly, but viewers who kept up were richly rewarded. The show got better each week, with its major storylines intersecting in the powerful and moving season finale.
BBC America has released "Ripper Street" season 1 in double-disc sets (DVD and Blu-ray). The Blu-ray video looks up to network TV standards. Audio is good enough.
For U.S. fans still moping around on Saturday nights, there's good news: "Ripper Street" has been renewed, but new shows have not aired in the U.K. Creator Richard Warlow ("Waking the Dead") says the series will move a bit forward in time, capturing "the death rattle of a century coming to a close."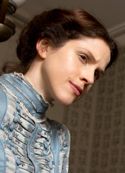 The series goes out of its way to remind us that Victorian England knew a thing or two about strong women. And so we have solid supporting performances from MyAnna Buring (a madam and the American's lover), Amanda Hale (the inspector's wife, pictured left), Lucy Cohu (an orphanage keeper) and Charlene McKenna (an upwardly mobile prostitute).
The domestic drama revolves around the detective inspector's grim home life, with his wife in perpetual mourning over their daughter's apparent drowning. Both bury themselves in work, she helping down-and-out Whitechapel women find their way.
Meanwhile, the American and his lover, the madam, struggle to keep their relationship afloat in a sexually charged atmosphere. And the detective sergeant plays the fool for a prostitute bent on a career in theater.
Probably deliberate is a certain vintage creakiness to the storytelling. This is no "Prime Suspect." The villains usually reveal themselves early on; lesser plot twists often are telegraphed. None of which detracts from the series' many pleasures.
The BBC Warner video set hasn't much to offer in the way of extras, strange given the historical gimme. There's a travel-related look at Whitechapel today (curry central); some electronic press kit time with the stars; and the best of the lot, an Australian TV look at one of the Ripper suspects: "Can forensic science finally catch Jack the Ripper?" Nah.
More British TV:
Glenn Abel on Google+