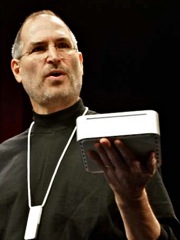 Studios on board for Apple's new iTunes movie rentals are Walt Disney Studios, 20th Century Fox, Paramount Pictures and Warner Bros., the L.A. Times reported Sunday, citing "people familiar with the plans."
The movie industry's hometown paper usually gets this sort of thing right. That list of studios is similar to speculation here and there. Fox was the known partner in the new-deal iTunes Store.
Pricing will be $2.99 for older films to $5 for high-definition downloads, the Times said, again echoing earlier reports. The rentals hang around on your computer for a month, but once viewing has begin the file has 24 hours to live. Yeah, like "Mission Impossible."
Steve Jobs hits the stage at Macworld at 9 Tuesday. I'll be blogging it live and … Um, hold on. That's 9 a.m. Tuesday. Blog amongst yourselves, sorry.