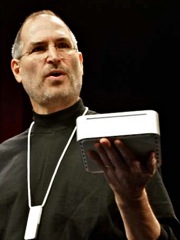 The knives came right away for the Apple TV relaunch. But if the box works as Steve Jobs and Co. intend — movies flow directly to the widescreen, along with whatever Internet video content you're scooping up — the device could go from embarrassment to standard gear.
If the audio-video quality comes up short then the early adopters will flee. As in, it looks like something wi-fi'd from across the house. We'll know in a few weeks.
Here are a few analysts' comments in the wake of Jobs' MacWorld speech. Some of these guys think the lack of DVD player is a problem, but I'd say they're way off — your basic consumer won't be buying anyway. This is early adopter turf for now.
The Apple TV still lacks two key features that would make it a killer product: a DVD player and a TV Tuner. Both may sound old fashioned but consider that many people may baulk at buying yet another device to plug into their TV's; with a DVD player built in it becomes a DVD player substitute, with a TV tuner and PVR functionality it's a TiVo replacement. There's already a healthy group of Apple fans setting up Mac Mini's in this exact way. (Duncan Riley of TechCrunch)

Apple's catalog is puny (1,000 titles) and not hits-focued, and it's in a crummy release window (30 days post DVD). AppleTV is getting better, but probably isn't there yet for the masses. Its ease of use is surely better than some alternatives, but it's not set-top box with on-screen promotion (and hey, even that hasn't worked for MSO VoD). Rental pricing is good ($3.99 for current hits). I haven't seen the quality, but prior iTunes store releases and AppleTV connections didn't cut it on big-screen TV sets. (David Card, Jupiter Research)

It's clear given the updates to Apple TV and the integration of functionality here that Apple is serious about integrating content to the TVs in the home. The ability to flow content to all the screens that are important to consumers is strategically important to Apple and no doubt Apple TV is going to go from "hobby" to strategic product in '08. Best part is the ability to rent and download directly from the TV without the need for the computer. The UI is nicely done and makes for a great experience. (Michael Gartenberg of Jupiter Research)

… Finally, watching Apple rentals on a TV will require the purchase of an AppleTV console for $229, which may be a tough sell for consumers who already own DVD players. (Citi analyst Richard Gardner)