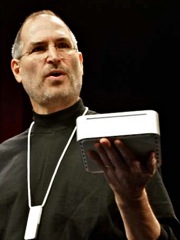 That two-week wait for the new-generation Apple TV software is turning out to be a month at best.
Steve Jobs unveiled the box's new capabilities at MacWord — same time as the iTunes movie rental announcement — but now the free software download is coming "in another week or so." The update is "not quite finished," today's Apple press release said.
Disappointing to see Apple disappoint given the history of this so-far disappointing product. Not a good start to the new era for Apple TV. Analysts already have been dubious of Apple TV's new features.
The software works for all Apple TV owners, enabling iTunes rentals directly from the box, HD movies (via hdmi) and easy access to any video in the iTunes menu. The price has been reduced to $229 (from $299).
The iTunes Store's movie rentals are up and working, although the selection won't be troubling Netflix anytime soon. I rented a movie the other day and downloaded it without incident. More on that later.
Another quick item: BlogTV cut a promo deal with AOL's instant-messaging service ICQ. Ultimately, ICQ users will be able to use their accounts to access the live video streams from BlogTV, TechCrunch reports. The internationally focused BlogTV is worth checking, at the least just to see some of the strange DIY stuff such as the Mamma_t show.