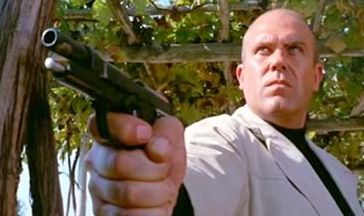 "Audiences need to see violence in certain movies," the Italian director Fernando Di Leo said of his work. "It's a way to de-stress."
Di Leo should know. As a scriptwriter, he helped bring us the spaghetti western classics "For a Few Dollars" and "For a Few Dollars More," seminal works in the strain of brutal-yet-stylized violence that fills our movie screens today.
As a director, he quickly graduated from social issues to society's menaces. With his series of gangster movies in the early 1970s — known as the Trilogia del Milieu — Di Leo kept pace with American contemporaries Don Siegel and William Friedkin, the collective kick-ass aesthetic inspiring Quentin Tarentino, John Woo and other disciples of post-noir grindhouse fare.
Italy's upscale Raro Video has released four of the director's 1970s films in the splendid DVD set "Fernando Di Leo: The Italian Crime Collection." The set includes the Milan trilogy as well as 1976's "Rulers of the City" (aka "Mister Scarface").
Di Leo came from the Mickey Spillane school, but was no ordinary fists-and-tits monger. The Italian director compared himself to Voltaire and talked in interviews about sprinkling his work with elements from "The Odyssey."
"Di Leo is almost Shakespearean," says hard-boiled novelist Andrea Pinketts, who's interviewed in the DVD extras. "There's this great sense of tragedy."
Di Leo, who died in 2003, worshipped John Huston and Jean-Pierre Melville ("Le Cercle rouge"). An actor recalls Di Leo as a sort of "English gentleman" who walked among and above the crazies and egomaniacs of the Italian cinema business.
There is plenty of art and craft to be found in the Fernando Di Leo films, at least compared with most of the hard-boiled output of the early '70s: The swirling opening of "Caliber 9" wordlessly follows a series of couriers down the main streets of Milan as they hand off a mysterious package. "Rulers of the City" has as its opening bookend a dream-like sequence in which a youngster awakens in his bedroom only to see his father gunned down by a gangster.
But then there's the screaming screen violence, such as the great sequence in "The Italian Connection" in which our hero pimp (Mario Andorf) clings to a speeding car's hood, all the while using his head as a battering ram to break through the windshield and throttle the driver. Di Leo never forgot to bring the quick cuts, car chases and explosions.
No wonder Tarantino loved this stuff. He famously co-opted the black-and-white hit men from "Italian Connection" — played by American actors Henry Silva and Woody Strode — for "Pulp Fiction."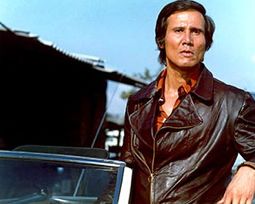 Di Leo's gangster movies benefited from the presence of American actors looking for a quick lira and an insurance stamp, most notably Jack Palance, who plays the guy with the scar in "Rulers of the City." Silva, right, appeared in this collection's "Italian Connection" and in "The Boss."
The images and sonics are on the high end of OK, especially for the era. Damage to the images has been successfully minimized and the cherry-red blood pops right out. Dialog comes across clearly. Subtitles are bold and much spot on, except for occasional odd liberty taken by the translators.
All of the four films are worth checking out, but I prefer the first ("Caliber 9") and last ("Rulers of the City"), which hold up best because of their intriguing stories.
In "Caliber 9," Di Leo drafted Italian comic Gastone Moschin to play a former hood released from prison who's apparently set on going legit. The mob and cops believe he still has $300,000 stashed away from his pre-prison exploits, making the straight-and-narrow a hard road. "He used to be with us and he liked it," one head-buster explains to his dubious boss.
Moschin's perfectly keyed performance anchors "Caliber 9's" bad craziness, making his tough guy Ugo Piazza the most memorable of Di Leo's characters.
Di Leo invented Piazza, but most of "Caliber 9" came from the works of Italian pulp fiction writer Giorgio Scerbanenco. "I found a connection," Di Leo recalled in one of the DVD set's documentaries. "We were like soul-mates (although) we met (only) a few times."
"Rulers of the City" succeeds on the performances of Palance and two hip young action stars, Al Cliver and Harry Baer. The action swirls around a mob war that's waged guerrilla-style by the young men, who seek revenge and maybe enough money to go party in Brazil. It's the most conventional of the films; Tarantino credits it as the movie that made him seek a career as a director.
Two other elements make Di Leo's oeuvre worth seeking out: beautiful women and terrific music.
Di Leo prided himself on finding and, uh, exposing stunners such as Barbara Bouchet ("Caliber 9") and Antonia Santilli ("The Boss"). Italians wanted their sex along with the violence, and got it.
"Women were goods" in Italian mobster movies, Di Leo recalled. Status was largely determined by "who you were banging."
Of the gorgeous mob daughter played by Santilli, Di Leo said: "She's a free girl — my kind of girl. She does whatever the fuck she wants erotically, sexually. … Who are we to deny it to her?"
Composer Luis Enriquez Bacalov ("Il Postino") incorporated his native Argentine rhythms and contemporary rock into the score for "Caliber 9," the first of several films he did with Di Leo. Bacalov brought in the Italian band Osanna, a cross between Jethro Tull and Genesis.
Three of these films benefit from Bacalov's eclectic music, startling in its originality for the era and genre. Two of his songs later made it into Tarantino's "Kill Bill."
Check out Glenn Abel on Google+