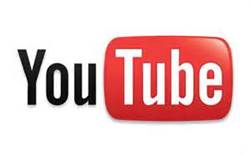 YouTube's flirtation with widescreen images and high-definition has bloomed into a full-scale romance.
Have a look, courtesy of our animal friends Big Buck Bunny (an HD toon) and Charlie the Unicorn (widescreen with the quality upgrade).
Now check out the downside, via another online video critter.
As you can see, YouTube today expanded to a 16×9 video player, meaning viewers of non-widescreen images are seeing vertical black bars on either side of the newly expanded screen (or on all sides, as above). YouTube Nation is not a happy place right now.
That letterboxed dynamic will be familiar to owners of 16×9 TVs as the result of an Academy (full screen) image being crammed into a widescreen (16×9) presentation area.
YouTube began experimenting with 720p HD last May and has been offering up high-def images since then. (The more desirable 1080p is what comes out of your shiny new Blu-ray player.)
Unfortunately, YouTube's user-generated content is almost exclusively done in what's ironically called full-screen, the same aspect ratio (4:3) as analog TV broadcasts. That, of course, is changing as most professional content is being created in the widescreen format. Home videos, too, are shifting over, especially via the new cheaper HD video cameras for home use.
And guess what: A good deal of YouTube content shot in widescreen had been deliberately masked by the creators so it didn't look like crap on the old 4:3 screen.
Looks like the YouTube faithful will be looking at those black bars for a long, long time — assuming the new screens remain, without some kind of option to switch formats.
"Widescreen YouTube is great, except for when watching anything not widescreen … which is pretty much everything," one fan of the online video service Twittered tonight.
Another commenter on the YouTube blog complained that it shouldn't be one-size-fits-all: "4:3 videos should play in a 4:3 player and 16:9 videos should play in a 16:9 player. I mean this isn't a TV."
YouTube's blogger chief says: "Don't worry, your 4:3 aspect ratio videos will play just fine in this new player."
Here's a response from the street: "I really really dislike this feature. It makes all of my old videos look like they are floating in the middle of the player."
The move to widesceen may be a result of YouTube's revenue-seeking explorations in professional content. Earlier this month, MGM (Fox) and YouTube sealed a programming deal that brings some older films to an ad-supported channel. In October, CBS signed up its catalog fare.
A swarm of YouTube Live videos posted two days ago get the black bar treatment, suggesting less than tubular internal communications.
Embeds are still going out at 425×344 resolution, with YouTube wisely avoiding a Web-wide graphics explosion.