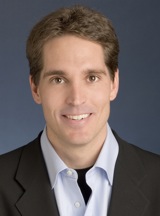 "We screwed up royally," Hulu CEO Jason Kilar has told site users in a major exhibition of transparency.
The trouble started when the upscale video site suddenly pulled nearly three seasons of the FX channel hit "It's Always Sunny in Philadelphia."
Kilar, pictured, wrote on the blog, "We gave effectively no notice to our users that these 'Sunny' episodes would be coming off the service. We handled this in precisely the opposite way that we should have."
The series was yanked at the request of the content owner, FX Networks. Noting that the matter was out of Hulu's hands, Kilar praised the cable network for agreeing to temporarily return the episodes, in response to a flood of complaints. That's two more weeks to keep up with Kaitlin Olson (pictured) and company.
The affair remains a bit curious, however, since FX is owned by News Corp., a co-founder of Hulu along with NBC Universal. (At one point the cabler was known as "FX: Fox Gone Cable.") So a News Corp. company removed its content from a News Corp. site, and then not surprisingly agreed to mitigate the damage. But the series is coming down irrespective of what's going on behind the scenes.
One explanation could be the launch last summer of the FX web site, which carries 45 episodes of "It's Always Sunny in Philadelphia." The site is underwhelming and the "Sunny" video seems not to work at times — as is almost never the case at Hulu. That's one way to compete when you can't.
But other FX shows such as "Nip/Tuck" and "Sons of Anarchy" remain on Hulu, where presumably a lot of folks who are among the millions who don't get FX go to see them.
Back to Kilar and the mea culpa: The CEO vowed to provide Hulu users with "the decency of a reasonable warning before the content is taken down." The Hulu blog entry was titled: "Customer Trust Is Hard Won, Easily Lost." Props to him.
Hulu would do well to point to off-site presentations of content it has to remove. That's the same spirit of the web that brings us that buzz term "transparency." Hard to imagine a content provider would have a problem with links, assuming the venue is legit. And, of course, anyone can clink anywhere on non-firewalled sites.
FX, meanwhile, should do something about its watery web site before eliminating content on a much-better streaming video outlet.
Of course, many people will simply head over to the BitTorrent side of the street, without apology.