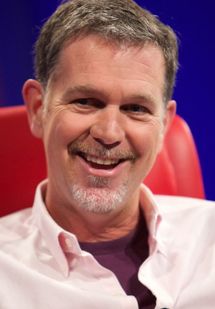 Saying "it's very clear that streaming is energizing our growth," Netflix chieftain Reed Hastings announced strong earnings, revenues and subscriber increases for the fourth quarter, sending its stock on a two-day tear. Profits were up 45%.
Hastings credited Netflix's movie-streaming service Watch Instantly with the flashy numbers, which handily beat the Street. For the online video industry, this is a big deal.
The news that online video service already is impacting the mail-rental giant's bottom line is startling and exciting. No doubt the story is being closely tracked in the Hollywood studios and at the networks.
Netflix has been aggressively promoting its streaming videos and lining up hardware partners, especially in recent months. Hastings said 2008's "substantial" investment in online video content will be surpassed in 2009.
There was no indication he would be adding current hit movies to Watch Instantly, however.
(Read the Netflix earnings report.)
To use Watch Instantly you have to be a Netflix DVD rental subscriber, which was likely a factor in the company's report that it brought in more subscribers at a lower acquisition cost. (Cablers can only dream … ) Total subscribers are about to surpass 10 million.
Hastings said he saw evidence that Watch Instantly users were renting fewer DVDs. "Time will tell whether this substitution effect is an attribute of early adopters or a mainstream behavior." He said Netflix was in talks with "nearly every (consumer electronics) manufacturer" regarding Blu-rays and online television.
Netflix stock shot up 15% on Tuesday's news, and added another 4% Wednesday amid a strong market rally.
"We plan to spend as much money as we can with the studios, licensing as much content as we can — we are already one of the studios' largest Internet revenue sources," Hastings said. "Our spending is limited only by what content is available at reasonable costs."
Netflix has been busily cutting carriage deals for its streaming video service, now standard on some Blu-ray players from LG and Samsung. LG plans "broadband TVs" with Netflix inside. The recently redesigned Xbox 360 Marketplace offers Watch Instantly, and lone wolves can buy a black box, from Roku, that picks up only that signal. TiVo started carrying the Netflix online video stream late last year.
Meanwhile, over at set-top box maker Vudu, 15% of workers were laid off. That leaves about 50 staffers. A spokesman said most of those shown the door were temp workers.
Disclosure: I'm a Netflix stockholder, feeling better about things now. The company's affiliate ads run on this blog.