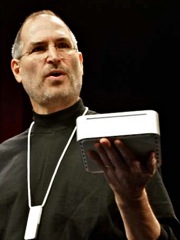 "Blu-ray is just a bag of hurt. It's great to watch the movies, but the licensing of the tech is so complex, we're waiting till things settle down and Blu-ray takes off in the marketplace."
— Steve Jobs, Oct. 14, 2008
The Apple chieftain's decision to wait until Blu-ray "takes off" means we should be seeing some movement regarding the high definition format right about now. Blu-rays are consistently selling at the same rate as DVDs these days, at least on top-tier titles, and DVDs are feeling increasingly like the cheap seats.
Any speculation about Apple's plans has to be viewed with skepticism, in part because there's so much of it, but there is an alignment between a couple of unsourced pieces of info floating around out there.
Throw reports from Tech Crunch, Boy Genius Report and AppleInsider in a blender and your info-smoothie has it that iTunes 9 will contain support for the Blu-ray format, aligning with new iMacs that play the true high def format. This is all "rumor and speculation," of course, but you have to wonder what is taking the tech colossus of Cupertino so long to get with the program.
True, Blu-ray remains shaky in some ways, with continuing annoyances on several fronts for consumers. HD DVD used to market itself against the Blu-ray camp with the proclamation that it was the only "market ready" format. Locked-down Blu-ray standards have been slow in coming and slower in adaptation. Up for some more of those serial firmware updates, anyone?
Watching a Blu-ray on a computer monitor seems a bit of a waste, but why not go for the best images and audio available in any format?
iTunes 9 won't be touching down anytime soon — for the record we're on 8.2.1 at this moment.
One of the immediate questions would be compatibility with Apple TV, the chronically dismissed box that gets video content from your computer to the TV monitor. That combo — iTunes to iMac to Apple TV to HD televisions — has bottom-line shifting implications, if it's possible.
Duly disclaimed: I own Apple stock and I want it to go up.