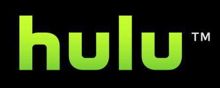 Hulu reportedly is ramping up for an initial public offering, seeking up to $300 million.
While the IPO rumor was floated earlier this year, a source now tells Reuters that the filing would come this year, with the offering as early as the first quarter. The IPO is "contingent on the renewal of rights to carry shows," the source says, noting that "some expire in a year."
Morgan Stanley reportedly would bring the Hulu IPO to market.
Hulu's backers include Fox (News Corp.), NBC and ABC (Disney). CBS is not currently in the mix and new NBC owner Comcast built its own streaming service (for cable subscribers only).
Hulu's new premium (paid) service looks like a bust so far, with most of its content already available for free.
Hulu rival Netflix, meanwhile, reached a new deal with Sony Pictures that won't thrill renters. Selected Sony fare will be subject to a 28-day holding period after the titles' retail street date — same as with Warner Bros., Universal and Fox.
Hulu says its end of the deal brings more streaming content from Sony to the Watch Instantly service, which needs it. (Hulu recently launched the digital service in Canada.)
Apple TV and Google TV are making their way into the market as well.