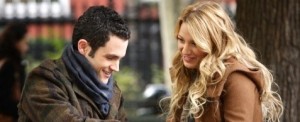 Un-gag me with a spoon. "Gossip Girl" officially is returning to online video, with full episodes expected to resume streaming for the new season.
Reports in TV Week and the New York Times cited network president Dawn Ostroff as saying the ban on full episodes of "Gossip Girl" would be lifted (paying customers had access via the usual online retail channels, of course).
In a spectacular display of old-media boneheadedness, the CW got everyone's attention back in April as the final five episodes were taken off the streaming menu. "The epicenter of the 'Gossip Girl' universe will be on The CW's broadcast television airwaves," Ostroff declared.
The woman is in her late 40s, making her a card-carrying old-media exec. Of online video, CW Ostroff groused in January, "We don't make the kind of money we make when it's on the air."
Fans went BitTorrent right away, getting ad-free online episodes of "Gossip Girl" anyway. Some enterprising folks put up watchgossipgirl.net viewgossipgirl.info — still supposedly streaming as of this evening, although the featured episode never started for me on either site.
Some people can't get the show off TV anyway, with The CW unavailable in some areas of the country and Canada.
The idea was to boost ratings, which didn't happen, at least in a meaningful way, TV Week reported. This is the network whose magazine series "CW Now" actually posted a 0.2/00 in late January. That's TV biz talk for incredibly horribly bad.
The good news for fans broke yesterday, but not a single official word can be found on cwtv.com. A promising button that says "Update on full episodes" leads to the forum thread "cwtv.com to Pull Streaming of New Gossip Girl Episodes," on which a single fan posted the news deep in. Man, you gotta think these are some deeply clueless TV folk.