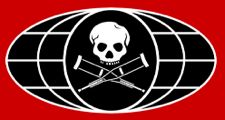 The first two "Jackass" movies grossed something like a combined $140 million in theaters, but the exhibitors aren't getting their mitts on the next installment.
Paramount is heading straight for the gross-out gang's core audience by deploying "Jackass 2.5" online, starting Wednesday with exclusive streaming on Blockbuster's Movielink.
A week later it's on to DVD and paid download services such as Amazon and iTunes. Online rentals start Jan. 1.
Blockbuster shareholders will be delighted to hear the rental giant reportedly paid $2 million for this chance to spotlight its movie download service. With a film featuring liberal ass, dick, shit and piss.
The online units of MTV and Paramount say this is first major studio movie to debut online. That's not counting "Sicko" and "American Gangster," both victims of major leaks to Bitstream Nation. The scheme also promos the new jacksassworld.com
"Jackass 2.5" is just what it sounds like: outtakes and deleted scenes from "Jackass 2." Damaged goods? Nope, this is another balls-to-the-wall effort from Johnny Knoxville and the boys. Making it about as funny as disgusting humor gets — strictly for those with the inability to be offended.
Knoxville says hat "2.5" is due to "my and the boys' inability to stop shooting 'Jackass 2.' " And so we have stunts such as anal-bead kite flying, fun with snapping turtles, a Russian prostate massage, a cobra-infested bed of nails, the smelly powder "poof" and the "rattlesnake salad toss."
The best bit is fat man Preston Lacy dressed as King Kong, balancing atop an outhouse while fending off radio-controlled airplanes. His love interest is Wee Man, as Fay Wray.
In between bits, the boys talk about each stunt and how much the victim Jackass guy hated doing it. They say things like, "We filmed this atrocity … "
Here's Knoxville with a pitch for this major Viacom corporate initiative: