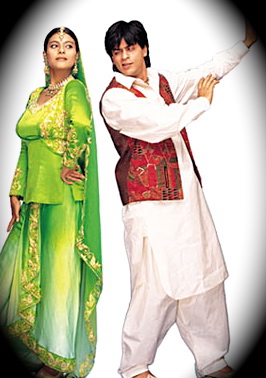 I love Bollywood. What would suck out loud in the States — zippy music, loud costumes and Metos-fresh teens — routinely comes across as pretty cool. Musical numbers just break out for no reason, everyone on the street jumps in, just like Mickey & Judy.
My favorite film from India is a cheesy thriller called "The Fog"
(not the one you're thinking of), in which someone is running around bumping off the Mentos suckers. If the pretty people aren't busy being stalked or killed, they break into song-and-dance. I actually got a bit of a scare off this one. Well, sort of.
Then there's the excellent "Lagaan: Once Upon a Time in India," about soccer and imperialism (not dusty hombres in long coats). "Lagaan" runs something like four hours and is basically a drama, but the singing and dancing come on strong.
Anyway, as you'd expect there are many ways to come by Bollywood output on the web, in addition to the IRC downloads and the usual freebies via YouTube and Google. Outlets seem to come and go a lot. Here are a couple:
Rajshri.com offers more than 275 films, 1,400 music videos and about a thousand TV shows. A lot of the fare can be streamed for free; U.S. pricing for downloads ranges from a buck to $10. Among the offerings are "Vivah," billed as "India's first movie to debut on the Internet!" Good site.
BollywoodTV has plenty of movies in addition to the TV stuff. Nothing works unless you download the "video enhancement" software Edgestream. Sign-up required as well.
Metacafe stacks up about 735 movies under "Indian videos." Some are mildly racy; try to contain yourself.
BharatMovies has a lot of full-length content. On a lot of them the grainy images look like they passed through somebody's camcorder. Movies categories include Hindi, Telugu, Tamil, Bengali. As with all of these sites, I have no idea where they stand on copyrights.
Jaman hosts Bollywood fare and world cinema from all continents. Some in high def. Not much for free, but a great place to poke around. Has a program that allows indie filmmakers to post their works.
Aapka Video doesn't seem to have movies, just good videos. It also welcomes uploads from wanna-be filmmakers, especially if they're bringing some desi babes. Aapka appears to be the most technically accomplished of the sites — translation: Everything seems to work and look good. Plus, there's a box on most pages that orients the uninitiated and points us to the good stuff — such as the oeuvre of silicone star Rakhi Sawant
.
Update (Aug. 3, 2007): Indian web TV portal already a hit