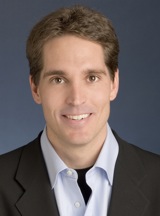 Jason Kilar of Hulu.com got in five minutes of face time with CNBC viewers, saying his online TV service owes its success to one simple rule: "We obsess over every pixel."
"We think that if we can obsess over quality and build a better mousetrap that good things will happen," the Hulu CEO told CNBC's Julia Boorstin on Tuesday. "Users will adopt the service, advertisers will find great value in it. And that's what we're seeing:
"We've gone from a handful of advertisers to over a hundred. When you take a look at the ramp of the business in terms of revenue, it's vastly exceeding our expectations. So even in the midst of the current financial markets, we're seeing business grow very aggressively."
Update: Jason Kilar left Hulu in early 2013.
At the one-year mark, Hulu ranks No. 7 among online video sites. Remarkable, or unremarkable, depending on your perspective. Boorstin asked why Hulu with its vast popularity and publicity didn't register higher.
"There's a lot of headroom. … We're a start-up." Kilar put the ad-supported premium video market at $80 billion in the U.S. alone. "We're eight months into it (ad sales). There are a lot of places this can go," he said.
Asked why Google and its YouTube don't just crush Hulu, Kilar smiled and said he's asked that all the time.
"Our focus in very narrow. Which is exclusively focused on premium content. That's the only thing we care about. … I think the user-generated content business is a great one, but it's a separate one. You can see two (different online video) businesses doing very well."
The follow-up question about YouTube getting into premium content via this week's deal with MGM wasn't asked.
Kilar said the feared cannibalization of network ratings with the emergence of full episodes offered online never happened. In fact, "Living room consumption of media is up (in the past year.) … Part of that is we make it so much easier to sample programs."
As is required by law, he cited the example of "Saturday Night Live," which turned from has-been to overnight sensation with the help of online video posts of Tina Fey as Sarah Palin. Via the online clips on Hulu and nbc.com, Kilar said, SNL became "relevant seven days a week."
Hard to believe, but it was only a year ago that the prematurely derided Hulu went into its public beta. The official launch came in March, but was old news to the millions of viewers using the streaming online video service. Then again, the monolithic YouTube didn't even exist four years ago. Dog years have nothing on online video years, it seems.