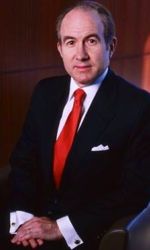 Viacom's president and CEO agrees with Hulu: Measurements of online video audiences are off. By a lot.
Noting that "you get paid on measurement," Philippe Dauman charged that streaming-video tracking done by online ratings services are "extremely inaccurate."
"What we see internally is very different than what the measuring services have," Dauman said, making the same points as Hulu executives did in their leaked complaint email to Nielsen. Viacom also uses Nielsen for its streaming video properties, such as fare from Paramount, Comedy Central, Nickelodeon and MTV.
Dauman made the comments during his Q&A session Wednesday at the Sanford C. Bernstein Strategic Decisions Conference. The majority of the talk focusing on streaming video, to no one's surprise.
Dauman, among the most savvy of the old-media chieftains when it comes to online video, is on board when it comes to the multiplatform digital universe, at least in theory:
"We're agnostic about how people view our content as long as we get paid for it," he said, envisioning a time when TV and video releases were day-and-date across all platforms.
"Consumers certainly want to have access to content on different devices," Dauman said. "We have to adapt to that world.
"We on the content side have to work with the distribution community to make that happen (but) it's not going to happen overnight. … It's not a lightswitch moment."
Far from hurting broadcast television, he said, online appears to be strengthening it.
"When we have a hit, our online presence actually builds the show. It draws in fans, it gets them more committed to the show. It increases the intensity of the relationship. And, importantly, we can monetize our video and online presence very well.
"We are getting more viewers than we ever had on our shows. When we get strong ratings … we get a tremendous number of views online. … Our programming skews very highly, both online and VOD.
"As we go forward, we'll be able to modify that better (with new ad models)."
He said establishing appropriate price points for ads and premium online video fare was especially difficult now because skewing from the sick economy.
Keeping network affiliates happy and in the loop is an important part of online development, Dauman said. "We manage content so it's not cannibalistic. We're very conscious of this because of our affiliate relationships. Broadcasters until now have not had to be very conscious of (online).
"We're very careful how we window our product." He said a "very robust" premium product for distributors and customers was doing well in beta.
On the seamy side of video downloads, he noted that "peer-to-peer networks are still a problem. The studios have to be vigilant."
Dauman cited the pirated version of "X-Men Origins: Wolverine" that appeared online before the film's debut. (And, incredibly, was the source for a gushing review by a Fox TV movie critic, now an ex-Fox TV movie critic.)
Viacom is working closely with online distributors, he said, because the practice of P2P piracy "is a bandwidth hog."
Overseas, he said, countries with local film industries tended to be good allies in the piracy fight — such as India, France and Sweden. "Piracy has always been an issue in our business."