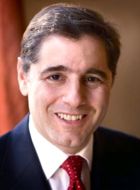 Making good on a Barack Obama campaign promise, the FCC plans to officially bar ISPs from lording over the content and data that flow through their Internet pipes.
FCC chairman Julius Genachowski, pictured, is scheduled to make the announcement Monday, various news media reported.
The news is quite good for the online video industry and its customers, both of whom gobble bandwidth and increasingly threaten traditional video media such as TV broadcasters and cable TV companies.
The Net neutrality rules are intended to prevent cablers and telcoms from denying access to potential rivals, such as online video providers and Internet phone-service providers. A lesser form of discrimination emerged with the deliberate slowing of data packets.
Obama's choice of Genachowski for the top FCC post virtually guaranteed Net neutrality would be adopted in some form. The tech-savvy chairman is a former venture capitalist who worked for Barry Diller's e-commerce company IAC/InterActive Corp.
The FCC's tilt toward neutrality predates the Obama administration, however.
Even before the president took office, the FCC strong-armed Comcast, the giant cabler and Internet service provider, into halting its practice of throttling media file-sharing activities. Comcast had been limiting the bandwidth resources given to heavy online video users. In 2005, a broadband service provider in North Carolina consented to stop blocking access to a Vonage telecommunications application.
The formal adoption of Net neutrality would give the FCC the power to shut down any similar activities by ISPs.
The outlawing of Net discrimination also helps protect against ISPs censoring specific Web sites or other online content providers.
At his confirmation hearings, Genachowski vowed to lead "a 21st century agency for the information age" that would ensure "the Internet remains robust, open and safe."