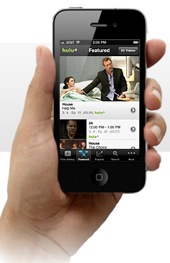 Hulu Plus is in business, billed as a "treasure chest in the cloud for TV lovers."
The price of these treasures = $9.99 a month. Fair enough, but you'll still be looking at ads.
No launch date was announced for Hulu Plus, and the service appears to be in a working beta that rolls out in stages.
Update: Hulu Plus officially debuted in November 2010. /update
Early adopters can get in on the Hulu Plus preview, if and when they're selected. Another possiblity: Follow Hulu on Twitter and Facebook, and hope you're picked at random. (Apply and you'll be asked about your age and related electronics.)
Here's what's known about features:
"Current Season Ticket" — The full season of primetime shows from ABC, NBC and Fox. The Hulu Plus promo page lists 33 shows, including "Dancing With the Stars," "Desperate Housewives," "Glee," "The Office," "Saturday Night Live," "Happy Town" and "Lost."
Previous seasons — "Every episode of every season from many of TV's greatest shows," including "The X-Files," "Heroes," "Buffy the Vampire Slayer," "Ally McBeal" and some of the series listed above.
Going mobile — Connections to the service are made via broadband, 3G and wifi.
iThings — iPhones (3GS up), the iPad and iPod Touch (third generation). All via the Apple App Store.
TV devices — Some TVs and Blu-ray players from Samsung, Sony and Vizio.
Game consoles — PlayStation3 and Xbox 360, with PS3 up first and the Xbox sometime in 2011.
HD — "High def" in 720p resolution for HD-native content. That means all top current TV shows.
In a perfect world, all this would be an upgrade to the existing free Hulu, but the media giants who own the shop made it clear in the past year that revenues had to start flowing from viewers' pockets. Hulu tried to monetize itself solely with advertising revenues, but that didn't prove rich enough for its owners.
"Hulu Plus is not a replacement for Hulu.com," Jason Kilar writes on the online video service's blog. "Hulu Plus is a new, revolutionary ad-supported subscription product that is incremental and complementary to the existing Hulu service."
He then repeats the corporate mantra that this business model will "work for all three of our customers, and those are our end users, our advertisers, and our content suppliers."
The new revenue source could attract other networks such as CBS and HBO. Fierce Online Video has an interesting analysis about how Hulu Plus will affect Netflix and cable's TV Everywhere initiative. Comcast, the force behind the cable online video service, is about to acquire NBC, making things even more interesting. In any case, one winner of this battle royal will be consumers.
"On first blush, Hulu Plus throws an industrial-sized wrench into the plans of the TV Everywhere engine, while at the same time pushing the fortunes of over-the-top delivery and online video to new highs," Fierce Online Video wrote.
Update: Silicon Alley Insider makes the argument that Hulu Plus is no replacement for cable TV service — assuming someone thought it was.
NewsCorp.'s Chase Carey floated the Hulu paid content concept last fall.
For consumers, Hulu offers this video pitch: