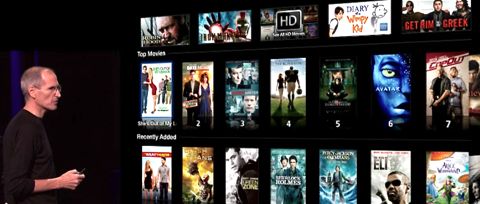 Going by the mantra "silent, cool and small," Steve Jobs has reintroduced the Apple TV.
No longer merely a company "hobby," the device looks to be a strong contender in the race to win broad consumer acceptance of streaming video flowing through widescreen TVs.
The price is $99, down from $299 on the much larger original product. The new Apple TV should be available in four weeks.
Speaking at an Apple press conference, Jobs introduced the second-generation Apple TV with a list of the things consumers sought in an entertainment center black box:
"The No. 1, 2 and 3 thing they want: They want Hollywood movies and TV shows whenever they want them. They don't want amateur hour. They want everything in HD."
And, Jobs said, they want living room boxes to be "silent, cool and small."
The movies and TV shows come as HD rentals only, via iTunes. The debut prices are $4.99 for a film and 99 cents for a recent TV episode.
"They get cheaper as time goes on," Jobs said.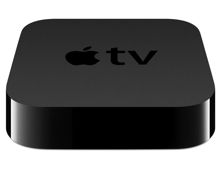 As expected, Apple's network TV partners are ABC and Fox. "Not all of the studios wanted to take this step with us," Jobs said. "Maybe they'll see the light." ABC was a gimmie as Jobs holds the cards on the board of Walt Disney Co., which owns the alphabet network.
Netflix users get their Watch Instantly, well, instantly. "This is by far the best implementation of Netflix so far," the Apple chief said.
Demonstrating the AppleTV's horizontal navigation (with dropdowns), Jobs showed how to import music, pictures and video from a nearby computer — and the iPad.
But, he said in an apparent dig at Google TV, consumers "don't want a computer on their TV. They have computers. They go to their widescreen TVs for entertainment. This is a hard one for people to understand in the computer industry. Consumers understand. They get it."
YouTube, MobileMe, Flicker and Internet radio stations are in the mix as well.
The Apple TV reveal came as the "one more thing …" segment of Apple's product news conference in San Francisco. The news had been widely expected.
The other products were an upgraded iPod Touch, an iPod Shuffle that returns buttons to the device, a smaller Nano with a touch screen (and no buttons) and a social network-driven update to iTunes.
Google TV debuts in the fall, with Android apps. It will run on cable boxes and Sony HDTVs, along with other entertainment hardware TBA.