Amazon Instant Video and A&E have uploaded a content licensing deal that brings to the streaming service reality series from the A&E, Bio, History and Lifetime channels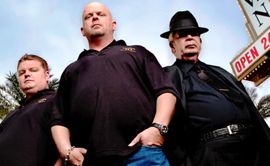 .
The pact includes prior seasons of the reality shows "Pawn Stars" (History) "Storage Wars" (A&E) and "Dance Moms" (Lifetime).
Content chief Brad Beale said that in a year Amazon more than doubled the Prime Instant Video offerings, to about 33,000 movies and TV episodes. The Amazon streaming video catalog remains dwarfed by rival Netflix, but the content deals keep coming for the web retail titan.
The A+E Networks shows will be available on the Amazon Prime service.
Prime Instant Video is the tag used for streaming video titles available at no extra charge to Amazon Prime subscribers. The Prime online video service requires a once-a-year payment of $79 that also covers "free" two-day shipping on products sold by Amazon (no minimum order).
Amazon Prime also rents and sells premium fare such as recent studio films and top TV shows. That catalog numbers north of 140,000 titles, Amazon says.
The streaming videos can be viewed on Kindle Fire as well as on the usual assortment of devices, including the iPad, iPhone, iPod Touch, Roku box, Xbox 360, PlayStation 3 and the Wii U.