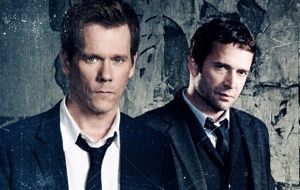 "The Following" and seven other Warner Bros. television shows from the 2012-13 season are on their way to Netflix under an exclusive streaming video deal.
Fox's heavily promoted "The Following" (pictured) is a Kevin Bacon serial killer series that premieres this month. The apocalyptic survivalist hit "Revolution" from J.J. Abrams (NBC) also will be available to Netflix subscribers after the season is over.
Other recent drama series in the package include "Longmire," A&E's hit western mystery series; "Political Animals" the USA Network miniseries with Sigourney Weaver; and "666 Park Avenue," the ABC supernatural thriller set in Manhattan.
Netflix landed a major streaming video agreement with Disney in early December. It covers new theatrical releases from Pixar and Disney, as well as catalog fare.
Netflix's beleaguered stock crossed $100 on news of the WB deal.
The Netflix-Warner streaming TV deal currently covers eight Warner Bros. Television series as well as "potential future shows." Netflix and WB have made previous content deals for catalog fare.
WB TV group president Bruce Rosenblum said subscription video on demand deals have become "an important window for our serialized dramas, allowing viewers a chance to discover a series that before might have been intimidating to tune into mid-run." The shows will be output in traditional TV syndication packages as well.
Ted Sarandos, Netflix content czar, press-released like so: "Through deals like this, Netflix is making the production economics right for the continued creation of the kind of compelling serialized dramas and thrillers that our members love."
The well-traveled series "Chuck," "Fringe" and "The West Wing" round out the deal, announced Jan.7.