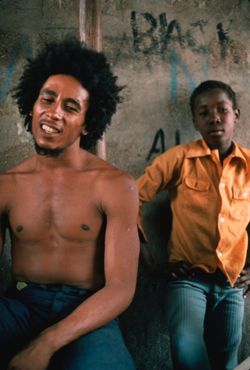 The documentary "Marley" opens not in Jamaica, but in Ghana, West Africa.
Viewers are confronted with "the door of no return," the infamous portal through which passed generations of slaves, torn from their mother country.
For Bob Marley, who sang passionately about slavery, "Africa was always the destination," his wife recalls.
In 1980, Marley began his final concert tour in Gabon and Zimbabwe, not knowing what to expect from Africans. He'd struggled to find a black audience outside Jamaica. The reggae star received a rapturous welcome in West Africa, of course.
For a mixed-race Jamaican who grew up shunned as "not even being black," it was a sweet affirmation.
Sixteen months later, cancer killed Bob Marley at the age of 36.
What makes Kevin MacDonald's documentary "Marley" so special and essential is its determination to place the singer in context. The first third of the film, in many ways, is about Jamaica of the 1960s — its people, poverty, politics and of course music. The immersion in the place and time is remarkable, thanks to extensive vintage footage and interviews with people who lived through it all.
Magnolia Home Entertainment has released the 2012 film "Marley" on Blu-ray and DVD. Director MacDonald and Marley's son Ziggy (the film's executive producer) do the feature-length commentary.
MacDonald ("The Last King of Scotland") had the participation of the Marley family, and with that came access to those who knew the musician as a child and young man. One rural cousin "rolled himself a joint and away he went," MacDonald recalls. "He was full of fantastic stories."
The must-have interview was with Bunny Wailer, who grew up with Marley and came to fame with him as a member of the Wailers. The filmmakers were up against decades of Wailer's anger over his treatment by Marley and record executives, but in the end, "he succumbed" to the project. Wailer smokes some pot and dresses with a bold yet elegant flair, is a colorful and cheerful presence in the docu. The "Marley" Blu-ray includes 20 minutes of bonus time with Wailer, who insists he and Marley never quarreled.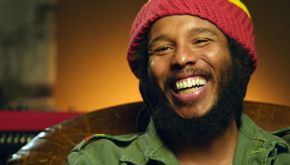 Marley, Wailer and Peter Tosh were the creative forces in the Wailers. They'd started out in inner-city Kingston as the Juveniles (the first of many, many names for the combo), covering white-bread American pop. Before long, they turned to local dance music, hitting No. 1 on the island with the corker single "Simmer Down."
The record producers were the stars in the ska/rocksteady scene of the 1960s, though.
Marley, Wailer and Tosh worked with the legends, including Joe Higgs, and Coxsone Dodd and Lee "Scratch" Perry of the hitmaking Studio One.
"We started our own economy," Perry recalls in the docu.
Ska producers routinely kept the profits from records made in their studios. Disputes over money kept the Wailers moving from deal to deal until they signed with CBS Records and, later, Chris Blackwell of Island Records. For Blackwell, they recorded the historic "Catch a Fire" album (1973).
Wailer and Tosh, however, found reasons to be unhappy with Blackwell, who envisioned the group as a black rock act. Blackwell admits to "pasteurizing" the band's original Jamaican sound. (The record exec also is an executive producer of this film.) Wailer, in particular, felt Marley's rising star deprived the other two of recognition and respect. The original Wailers broke up in 1974.
Marley's big breakthrough came with his new band's run at the Lyceum Theatre in London, playing for a delirious mixed-race audience. Blackwell, who recalled the shows as "just explosive," released a live album with the single "No Woman, No Cry," and Marley became, well, Bob Marley.
The singer had long since embraced the Rastafarian movement of Jamaica, adopting its dreadlocks and the "sacrament" of marijuana. "This is my identity, man," Marley said of his dreadlocks. Outside Jamaica, Marley often was harassed over his pot use.
The documentary has an bizarre (and funny) sequence in which the Rastafarians' idol, Ethiopian leader Haile Selassie, lands at a Jamaican airport. Selassie gets one look at the mob of Rastas awaiting him, and refuses to deplane.
Before joining the Rastas, Marley said, "It was always a lonely world." He never met his white father, and as a boy suffered rejection from some black Jamaicans who populated his world. He often wrote of that hurt. "I've never known happiness," he sang in "Concrete Jungle." "I've never known sweet caress."
One terrific scene in "Marley" plays the gospel version of "No Woman, No Cry" over aerial footage of the back-country hills where he was born. At age 12, Marley found his footing in Trench Town, the Kingston development known for its poverty and its music.
Throughout the 1970s, Marley and his singer wife Rita toured the world, spreading the word about the Rastafarian philosophy, Selassie and the back-to-Africa movement. "We were on a mission," Rita recalls.
At times, the documentary offers a less-than-flattering perspective on the driven singer. "He was a rough man," his son, the reggae star Ziggy Marley, recalls. One of Marley's daughters shakes her head in dismay when asked about Rita's wrangling of the many women who offered themselves to the singer. "I would never do that."
Marley used his riches to move into the former governor's mansion in Kingston ("I bring the ghetto uptown"). He ran the place like a military compound, with strict rules of behavior and dress.
By the mid-1970s, Jamaica had fallen into political gang warfare. Marley agreed to help keep the peace. His activism led to an assassination attempt in 1976, days before he was to perform at a concert designed to ease tensions. The wounded Marley went ahead with the show, before 80,000 Jamaicans. Documentary footage shows the chaos.
Marley didn't fear death by gunmen, he said, but upon learning he had inoperable cancer fell into deep despair. The performer refused an amputation because he would no longer be able to dance, the documentary says.
The frail Marley played his last concert in 1980, doing multiple encores for a raving audience in Pittsburgh. The docu shows clips while Rita tells of his refusal to cut short the encores, even at the risk of his life.
"Marley" tests viewers' patience with its running time of 2 and a half hours, especially in its final (mostly biographical) hour or so. The film probably should have been shorter, but also could have gone on much longer:
Consider that Martin Scorsese found 3 and a half hours' worth of story in "George Harrison: Living in the Material World." That's one Beatle. Marley's story is in some ways as remarkable and improbable as the one of four scruffy kids who came out of Liverpool and made the world their own. (Scorsese and Jonathan Demme were associated with this project in its early days.)
Other extra features on the Magnolia Blu-ray of "Marley" include "Around the World," which visits with fans and admirers in places you'd expect (Africa) and some you wouldn't (Tibet). There are extended interviews with three of Marley's children; the Wailer talk, which isn't subtitled; and a photo gallery. The documentary used few full-length performances, and there are none in the extras, oddly and unfortunately.
Audio (DTS-HD Master Audio 5.1) and video (1.78:1) are fine, up to studio standards. Quality of source materials varies widely, of course.
Read about psychedelic music of the 1960s.
Check out Glenn Abel on Google+