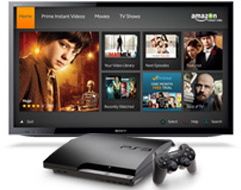 Amazon's Prime Instant Video offerings grew by about 3,000 film titles as the online retail giant announced a distribution deal with Hollywood studio partnership Epix.
The Epix deal brings streaming video subscribers access to mainstream fare such as "The Avengers," "Iron Man 2" and "The Hunger Games." Epix outputs films for partners Paramount Pictures (Viacom), Metro-Goldwyn-Mayer Pictures and Lionsgate.
Netflix stock fell as much as 11 percent on news of the Epix deal. Although new Epix output deals had been expected, one analyst told CNBC the Amazon pact could be "the final straw" for Netflix, whose value has plummeted over the past year.
Netflix also has streaming video rights to Epix fare, but those titles are no longer exclusive. Earlier this summer, Netflix CEO Reed Hastings told analysts that the loss of exclusivity was not a major blow as Epix titles make up only 5 percent of that service's catalog.
Prime Instant Video is the tag used for streaming video titles available at no extra charge to Amazon Prime subscribers. The Prime online video service requires a once-a-year payment of $79 that also covers "free" two-day shipping on products sold by Amazon (no minimum order).
Amazon Prime also rents and sells premium fare such as recent studio films and top TV shows. That catalog numbers 120,000 titles, Amazon says. The unlimited movies and TV episodes on Prime Instant Video now number 25,000, Amazon said Sept. 4.
"We are investing hundreds of millions of dollars to expand the Prime Instant Video library for our customers," said Amazon film & TV exec Bill Carr.
This week, Amazon is expected to unveil a new Kindle Fire device with access to the entertainment titles. The online video offerings also reach into living rooms via devices such as PlayStation 3, Xbox and the iPad.