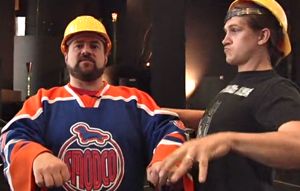 Kevin Smith and Richard Linklater have signed up for Hulu. Both directors are providing summer series for the online video provider.
Hulu just unveiled its slate of originals and imports, although some of the programs were trotted out at the digital "upfront" ad confab last month.
Smith ("Clerks") apparently enjoyed his guest stints as a TV movie reviewer; he's unleashing "Spoilers," a revue built around summer blockbusters. Hulu says to look for "animation, reenactments, interviews and passionate conversation." Smith tries to explain: "I understand that ultimately it's the fans who make the film. So in this show, we do not review movies, we revere them." (View trailer)
Linklater ("Dazed and Confused") presents an offbeat travel series with Speed Levitch as the frontman. It'll take viewers across the country in search of oddball places and things such as the the shoe gardens of San Francisco and "the luckiest subway grate in New York."
Then there's "We Got Next," "an edgy and comically offensive bro-mantic comedy" about guys who play pickup basketball. Hale Rothstein ("The Game") is the writer-producer.
Hulu says the slate's exclusives (they're not originals) "range from 'Rev.'s' hilarious take on life as an inner-city vicar, 'The Yard's' elementary school gangland, and the angst-ridden teen comedy 'Pramface,' to Derren Brown's amazing illusory stunts, the bold dramatic miniseries 'The Promise,' (and) 'Little Mosque's' fish out of water comedy."
Last summer, Hulu bowed its first slate of exclusives to the U.S., with "Misfits," an edgy teen superhero drama from the U.K.; the British cuisine comedy "Whites"; and the dance-with-fate series "The Booth at the End."
"Booth" returns for a second season.
The shows will run on Hulu and Hulu Plus.