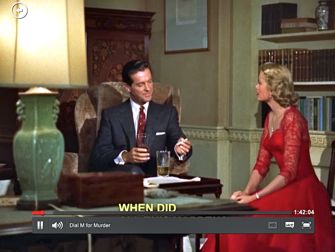 Netflix has upgraded its Web video player, making a series of changes for those who watch movies on computers. The changes, of course, are getting mixed reviews.
The glaring error, easily observed, occurs when the user interface appears on the screen, with the scroll/navigation bar covering the lower part of double-line subtitles, pictured, left. The bar also extends up a bit over the bottom of single-deck subtitles.
One key change is the use of icons on the navigation bar (for HD, audo, etc.) and consolidation of its controls into one horizontal line.
The upgrades do not affect subscribers who watch Netflix via various consumer electronics products such as smart TVs, Blu-ray players and game consoles.
Users who watch TV via a PC or Mac, however, may appreciate the new scaling capabilities, which Netflix says makes it easier to use on a big screen. The player also scales down to smaller windows. At least a few customers are reporting problems with the function, however.
Videos now go wall to wall on browsers.
Full-screen mode added the features of browser mode, displaying season and episode information while watching a TV program. Users also don't have to wait for content to buffer before going full-screen.
The main complaint from subscribers is the user interface covering parts of the subtitles. As Netflix continues to add subtitles on English-language content — in response to criticisms that the company doesn't accommodate the hard of hearing or deaf — the issue could loom large.
Computer users' biggest beef remains the use of Microsoft's Silverlight video/app framework.
For those using consoles and other consumer electronic products, the control display issues continue to linger, such as the single-photo "preview" on the Xbox 360, and the puzzling and incomplete UI on some Sony Blu-ray players.
"Cool, now (the web player) works as poorly as the Xbox app," one wag posted on Hacking Netflix.