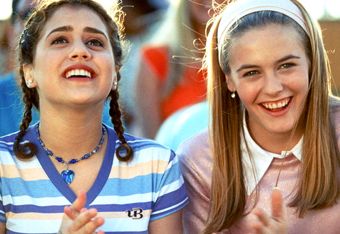 "Clueless" looks smarter and smarter as the decades go by. Amy Heckerling's delightfully cynical tale of worldly teens obsessed with designer clothes, sports utility vehicles and cell phones still rings true, down to the last fashionista.
The slanguage Heckerling invented for her Beverly Hills High kids survived into the next century, proving every bit as seminal as the pioneering work of Moon Unit Zappa.
"Clueless" (1995) was in the personal-makeover business long before reality TV got in the game. Heckerling's heroines delight in transforming a grunge-clad transfer student into a hot property.
Reality stuck to the script as the chubby young actress, Brittany Murphy, eventually brushed past "Clueless" stunner Alicia Silverstone to become Hollywood's It Girl and the star of several films. When Murphy died young in 2009, though, the New York Times headlined its obituary: "Brittany Murphy, Actress in 'Clueless,' Dies at 32."
On the Blu-ray's bonus features, Murphy just turns up as one of the gang paying tribute to Heckerling's film — and the director's prescience. Silverstone, who won hearts and minds playing 90210 princess Cher, is the sole holdout, an absence that goes unexplained (and unpunished) in the extras.
The packaging and content of Paramount Home Entertainment's new "Clueless" Blu-ray
are nearly identical to those on its 2005 DVD. That "Clueless: Whatever!" edition debuted the terrific extra features found on the Blu-ray (in standard definition).
The new element is a "Clueless" trivia game that runs throughout the film, if you want it to. ("Are you a bomb Betty or totally clueless?") The pretty-in-pink questions and answers eat up too much screen space, but the game is fun if you know the film and its cast.
The Blu-ray's audio (DTS-HD Master) and video are fine but unremarkable. The teen fashions' wild colors pop off the screen, and you can see Silverstone's cute faint moustache. (Tech note: The "Clueless" Blu-ray's fast-forward and chapter skip functions did not work on my Sony Blu-ray player.)
True to the film's spirit, six snappy new featurettes survey the "Clueless" phenomenon. "We're History" explores the pop-culture legacy; "Creative Writing" tells of Heckerling's trials in creating and selling the movie; "Fashion 101" dissects the vines; and so on. A cute bit shows how to play the movie's (PG-rated) "suck and blow" game.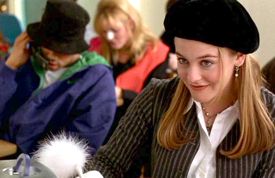 There are no deleted scenes and no commentary, unfortunately, but the featurette interviews with Heckerling and cinematographer Bill Pope ("The Matrix") give fans a pretty good idea of what was what.
"It was the closest I've ever come to something being in my head and being on the screen," says the "Fast Times at Ridgemont High" creator. "It was exactly the way I wanted it."
Pope explains the all-ages appeal as, "We never thought of this as a teenage movie."
Heckerling, who makes a hobby of studying slang, says cracking the DNA code of teen linguistics was no big whoop: "A lot of words that come from teenagers are about throwing up."
Fashion designer Mona May recalls the "Clueless" outfits as "not really what the kids were wearing" in the drab era of Nirvana — "it was a hyper-look." Of Silverstone — hired after she turned heads as Aerosmith's rock-video Betty — May says: "I couldn't have dreamed of a better little Barbie doll to dress."
Heckerling says Silverstone "was so cute … on the verge of womanhood but she's also got such a little girl quality. It's that thing that famous women sex symbols have where women like them also." Pope graciously says "Clueless" "really is Alicia's movie."
The project started life as a TV pitch called "No Worries." (Like "Ridgemont," it eventually spun off a series.) The many "Emma" parallels were added as the series concept morphed into a film script. But, "Unconsciously, I'd been writing an Emma-like character" from the beginning, says Heckerling.
The writer-director found her script "hard for people to understand" since it lacked the usual teenage-wasteland raunch. At Fox, "the men didn't get it." Producer Scott Rudin did, and Paramount won the ensuing budding war. "Clueless" overcame its chick-flick veneer via enthusiastic reviews and word of mouth, and went on to gross more than $77 million in theaters.
Of Austen's matchmaking heroine, Heckerling says, "If Emma were alive today, she'd be directing films."
Check out Glenn Abel on Google+